Doctors Ought to Care (DOC)
The Department of Family Medicine supports medical student engagement in promoting the well being of students in the Madison area community by sponsoring Doctors Ought to Care (DOC).
DOC is a nationwide organization of physicians and medical students dedicated to working with young people to promote healthy lifestyles.
Locally, UW medical students are trained to teach middle and high school students about health promotion and safety. Students participating in DOC enjoy the opportunity of partnering with schools to provide youth with health related information that is fun and dynamic.
In the last four academic years, 127 DOC medical student volunteers have presented in classrooms throughout the Madison region, impacting over 6000 students.
Faculty Advisor
Stan Livingston, MD - stanley.livingston@uwmf.wisc.edu
Website
For more information about the program visit the DOC Website.
Public site primary links (section navigation)
Sidebar content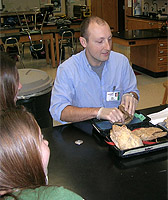 A DOC med student volunteer interacts with a classroom of students.
Visit Website
http://med.wisc.edu/doc