January 2, 2014
Welcome to the DFM's FY13 Annual Report (5.4 MB), a summary of our activities from July 1, 2012, through June 30, 2013.
In FY13, we provided outstanding care for over 435,000 patient visits in 21 statewide clinics, and over 45,000 patients at three urgent care sites. In July 2013, the UW Health Arboretum Clinic opened—the new home for the Wingra/Access Family Medicine Center and four faculty from the UW Health Odana Atrium clinic.
Our clinical teams continued their leadership role in system-wide primary care redesign. UW Health DeForest-Windsor and UW Health Verona were test sites for new models of care, and four faculty launched new Microsystems improvement teams. We also recognized quality improvement initiatives at the UW Health Northeast and Fox Valley clinics by honoring those teams with James E. Davis Awards for Quality Improvement.
Through our exceptional statewide education programs, we trained 122 family physicians and 81 physician assistants, and supported over 550 medical students. On Match Day 2013, 18% of UW School of Medicine and Public Health (SMPH) graduates chose to pursue residency training in family medicine—the highest percentage in a decade. And consistently each year, two-thirds of our graduating residents remain in-state after graduation, an outstanding demonstration of our commitment to cultivating much-needed primary care providers for Wisconsin.
In July 2012, our Wausau residency program transitioned its clinical operations to the Aspirus health system, and faculty and staff there became Aspirus employees. Through a graduate medical education (GME) affiliation agreement between the DFM and Aspirus, the DFM remains the institutional sponsor for the Wausau residency program and employed its residents through FY13. Our commitment to the Wausau program is as great as ever, and these changes are helping to strengthen the program as it moves into the future.
Our research faculty, staff, and fellows reached the national stage last year, when they presented at the 40th annual North American Primary Care Research Group (NAPCRG) meeting. Their work addresses specific health problems, such as obesity, nutrition, alcoholism, and substance abuse, and also promotes primary care research methods that can inform healthcare practice overall.
Finally, we reorganized and expanded our DFM leadership teams to increase shared governance, improve decision making, and ensure accountability at all levels.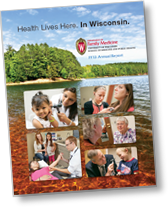 As healthcare undergoes some of the biggest changes in generations, we in family medicine are excited about our role in shaping its future. Because health lives here, in Wisconsin.
Valerie Gilchrist, MD
Millard Professor in Community Health
Chair, Department of Family Medicine
University of Wisconsin School of Medicine and Public Health
Key Facts about the DFM
January 2, 2014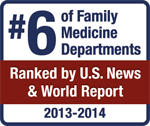 History: Created in 1970 as one of the original 15 family medicine residency programs in the nation.
National Ranking: Ranked sixth of family medicine departments nationwide in US News and World Report's 2014 edition, up from ninth in 2013 edition.
People: 857 employees statewide, including 181 faculty.
Budget: FY13 revenue of $100M.
Medical Student Education: Statewide medical student education program supported 557 students.
Residency Programs: Statewide residency programs dually accredited by ACGME and AOA trained 122 residents. Of the 38 who graduated in 2013, 63% went on to practice in Wisconsin. Since the DFM's inception in 1970, approximately two-thirds of graduates each year have remained instate.
PA Program: Campus- and community-based MPAS program trained 81 students; 34 graduated in 2013. Of those graduates who are clinically employed, 45% practice in primary care, and 48% practice in Wisconsin.
Patient Care: 435,214 patient visits at 21 statewide clinics, and 45,345 patient visits at three urgent care sites.
Research: $9.6M in research grant funding.
Year in Review
July: 44 new residents entered our statewide programs.
September: John Geyman, MD, presented the Farley Visiting Professor Lecture; John Frey Writing Awards presented.
October: DFM Professor Richard Roberts, MD, JD, received the John Walsh award from the American Academy of Family Physicians.
November: DFM faculty and staff helped launch the first Family Medicine Midwest conference.
Rural Wisconsin Health Cooperative Executive Director Tim Size, MBA, won the 2012 Renner Award; Randall Brown, MD, PhD, won the 2012 Hansen Lectureship.
The UW Health Northeast Family Medical Center and Fox Valley Medicine Clinic won James E. Davis awards for Quality Improvement.
December: DFM researchers presented 11 papers and posters at the 40th annual North American Primary Care Research Group meeting.
January: Lawrence Hanrahan, PhD, MS, joined the DFM as research director.
March: US News & World Report ranked the DFM sixth among family medicine departments in its 2014 edition.
May: The DFM honored 22 medical students and residents at the McGovern-Tracy Scholars Award
ceremony.
June: 38 residents graduated, 63% of whom remained in Wisconsin.