January 1, 2015
Welcome to the DFM's FY14 Annual Report (3.0 MB), a summary of our activities from July 1, 2013, through June 30, 2014.
In FY14, we provided outstanding care for 404,071 patient visits in 21 statewide clinics—including the new UW Health Arboretum Family Medicine Clinic—and over 27,577 patients at three urgent care sites.
Our clinical teams also improved the quality and delivery of patient care through extensive participation in the UW Health primary care redesign initiative. All of our clinics implemented the first phase of the Care Model redesign, while providing patients with a positive experience at every encounter, and we're preparing to launch the second phase in FY15.
We continued to uphold our commitment to educating much-needed primary care providers for Wisconsin. Of the 40 residents and 35 physician assistants who graduated in FY14, 63 percent and 68 percent, respectively, entered practice in-state. We also supported the teaching of 580 UW School of Medicine and Public Health (SMPH) students, and on Match Day, 15 percent of SMPH graduates chose family medicine residencies—nearly double the national average of 8.5 percent. In May, the American Academy of Family Physicians (AAFP) awarded us their "Top Ten" award for being among the best in the nation for matching students into family medicine.
In FY14, residents in our Wausau residency program became Aspirus employees; the DFM remains the program's institutional sponsor. We continue to collaborate with our Fox Valley program as it changes its structure from a DFM-administered program to a new organization developed in collaboration with ThedaCare, Ministry Health Care, and the Medical College of Wisconsin.
On the research front, we proudly welcomed Rachel Grob, MA, PhD, a national expert in qualitative, patient-centered research, as a senior scientist in the DFM. Dr. Grob's appointment is shared with the UW Center for Patient Partnerships (CPP), and represents the first formal partnership between an SMPH department and the CPP.
We also paid tribute to two cherished faculty members we lost last year: Gene Farley, MD, MPH, and Jeff Patterson, DO. Both were outstanding physicians and incredible people, and we miss them greatly.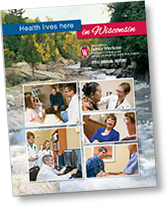 Finally, we furthered progress toward becoming a department of family medicine and community health though curricular enhancements, clinic-based healthy living initiatives, and local partnerships. These efforts, together with our sustained focus on accountability and integration will allow us to improve the lives of our patients, families, and communities for long into the future. Because health lives here, in Wisconsin.
Valerie Gilchrist, MD
Millard Professor in Community Health
Chair, Department of Family Medicine
University of Wisconsin School of Medicine and Public Health
Key Facts about the DFM
January 1, 2015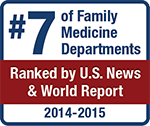 History: Created in 1970 as one of the original 15 family medicine residency programs in the nation.
People: 864 employees (including 173 faculty) plus affiliates statewide.
Budget: FY14 revenue of $104M.
Medical Student Education: Statewide medical student education program supported the teaching of 580 students.
Residency Programs: Statewide residency programs (DFM-managed and affiliated) are dually accredited by ACGME and AOA and educated 123 residents. Of the 40 who graduated in 2014, 25 (63%) stayed in-state to practice. Since the DFM's inception in 1970, approximately two-thirds of graduates each year have entered practice in Wisconsin.
PA Program: Campus- and communitybased MPAS program educated 84 students; 36 graduated in 2014. Of graduates who are clinically employed, 24 (69%) entered practice in Wisconsin and 11 (31%) entered primary care. In addition, 19 students were enrolled in the PA Program's master's completion program.
Patient Care: 404,071 patient visits at 21 statewide clinics and 27,577 patient visits at 3 urgent care sites.
Research: $7.8M in grant awards.
Year in Review
July: 44 new residents entered our statewide programs.
September: Jack Westfall, MD, MPH, presented the Farley Visiting Professor Lecture; John Frey Writing Awards presented.
October: DFM faculty were presenters and leaders at the second annual Family Medicine Midwest conference.
November: Marc Hansen, MD, DFM emeritus professor and residency program founder, won the 2013 Renner Award; Brian Arndt, MD, won the 2013 Hansen Lectureship.
UW Health Belleville Family Medicine won the James E. Davis award for Quality Improvement.
January: Resident Konstantin Mikeyhev, DO, and graduate Aaron Dunn, MD, received awards at the WAFP's annual meeting.
March: US News & World Report ranked the DFM seventh among family medicine departments in its 2015 edition.
April: Rachel Grob, MA, PhD, a national expert on qualitative research, joined the DFM.
May: The DFM received the AAFP's "Top Ten" award for matching medical students into family medicine.
The DFM honored 27 medical students, residents, and faculty mentors at the McGovern-Tracy Scholars Award ceremony.
June: 40 residents graduated; 25 (63%) entered practice in Wisconsin.