On this page:
Family Medicine Centers | Clinics and Hospitals
---
Family Medicine Centers
Prevea Health Family Medicine
Prevea Health Family Medicine is located in a highly visible and accessible area of Eau Claire, across the street from Sacred Heart Hospital and minutes from Mayo Clinic Health System-Eau Claire Hospital. The clinic has a well-established patient population, with approximately 12,500 visits each year.
Prevea Health Family Medicine is located within the Health Education Center of Chippewa Valley Technical College (CVTC).
Our state-of-the-art facility includes:
18 exam rooms and 2 procedure rooms
Electronic medical records
An x-ray suite (for digital and standard x-rays)
Ultrasound suite
Laboratory with expanded draw areas for patient comfort
Mental health and geriatric counseling rooms
High-tech conference rooms
Private, individual resident work desks with personal laptop computers and internet access
Human Patient Simulator laboratory
Residents work in teams to provide coverage and continuity for their patients.
---
Clinics and Hospitals
In addition to their clinical practice, Eau Claire and Augusta residents rotate at several area clinics and hospitals. Each facility is unique and offers residents a first-hand experience that may help them determine the type of practice to enter upon graduation.
Clinics
Mayo Clinic Health System
Marshfield Clinic
Oakleaf Medical Network (private practice)
Prevea Health Centers
Hospitals
Most inpatient rotations take place at the two Eau Claire hospitals: HSHS Sacred Heart Hospital and Mayo Clinic Health System-Eau Claire Hospital. To gain the best pediatric experience, residents rotate at Children's Hospitals & Clinics of Minnesota for one 4-week inpatient rotation and one 2-week ER rotation.
General and intensive care hospital/multispecialty clinic complex
304 beds
Over 250 physicians
13,000 inpatient admissions per year
Mayo Clinic Health Systems-Eau Claire Hospital offers:
A Level II trauma center
A comprehensive cardiac and cardiovascular surgery program
Level II Special Care Nursery
Chest Pain Center
Primary Stroke Center
---
Acute-care regional medical facility
344 beds
over 250 physicians
10,000 inpatient admissions
HSHS Sacred Heart Hospital features:
Comprehensive regional cancer care that includes IMRT, IGRT and a da Vinci surgical robot
The Brain and Spine Institute with developing neurosurgical IMRI and ICT technology
Heart & Vascular Institute with state-­of-­the-art cardiac care
Primary Stroke Center with LifeLink III emergency helicopter transport services
The only CARF-­accredited physical rehabilitation facility in the region
---
Only Minnesota hospital system to provide comprehensive care exclusively to children
12,000 inpatient admissions per year
90,000 emergency visits per year
347 beds at two hospitals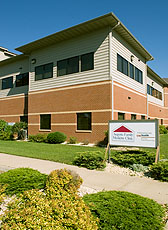 The Augusta Family Medicine Clinic.
More Info