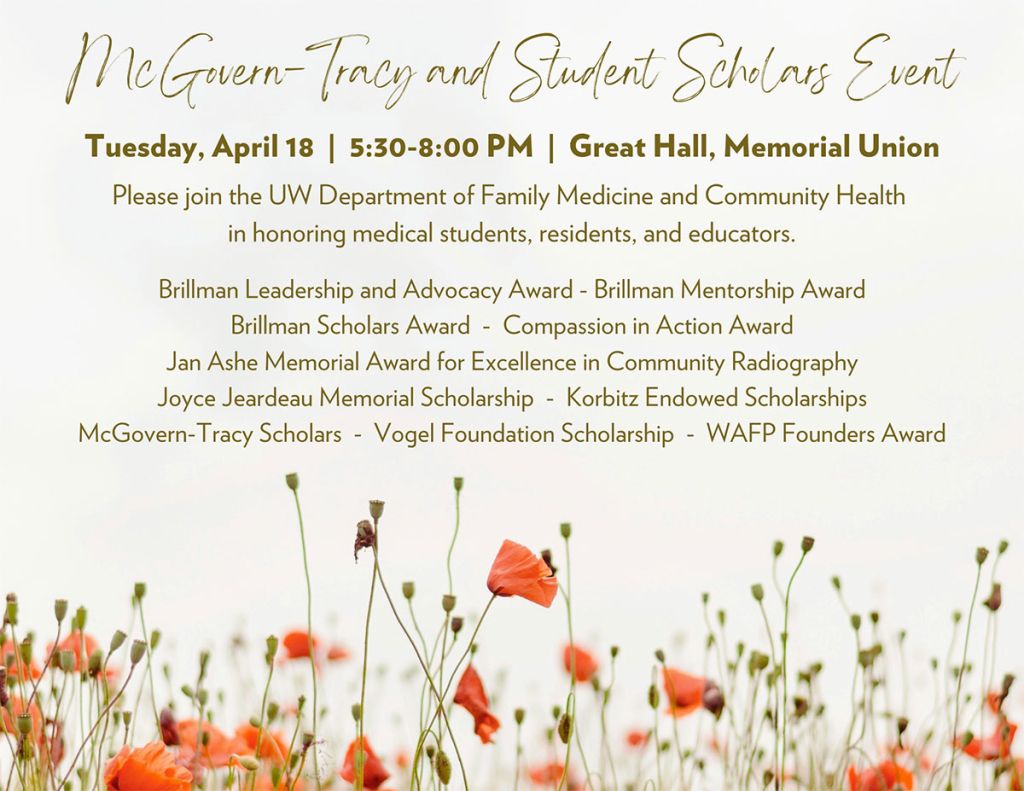 Please RSVP for our annual McGovern-Tracy and Student Scholars dinner by March 29, 2023. https://forms.monday.com/forms/07b51d48ead0aa7b2b9086c6b7d6e721?r=use1
You and a guest are invited to join us on April 18 from 5:30-8:00 PM at the UW Memorial Union to honor the winners of our McGovern-Tracy and Student Scholars awards and enjoy a talk by Dr. Bret Benally Thompson. Please RSVP at the link above to indicate your entrée choice and share any accommodation requests.
5:30 PM – Reception with appetizer buffet and hosted beverages
6:00 PM – Dinner service
6:15 PM – Presentation by Dr. Benally Thompson
6:30 PM – Presentation of awards
7:30 PM – Dessert and connection
Times approximate and subject to change
We recognize that this event does fall during Ramadan and have worked with Memorial Union catering to offer a to-go option to enjoy after the event. All attendees are welcome to choose this option in lieu of a plated meal during the event if it best fits their needs.
Please contact Stacey Lansing (stacey.lansing@fammed.wisc.edu) or Sue McGuire (suzanne.mcguire@fammed.wisc.edu) with any questions. We look forward to seeing you on April 18!
McGovern-Tracy and Student Scholars Event
The McGovern-Tracy and Student Scholars program is named for Isabel McGovern Kerr and Michele Tracy. McGovern Kerr endowed the DFMCH in 1998 to establish scholarships in memory of the McGovern family who pioneered in Wisconsin and were some of its first family physicians. Michele Tracy was a second-year UW medical student who was killed while participating in an educational service program in Malawi, Africa, in July 1999.
Dr. Bret Benally Thompson
Dr. Benally Thompson is a faculty member in Hematology, Medical Oncology and Palliative Care in the Department of Medicine. He also serves as medical director of Palliative Care at UnityPoint Meriter Hospital in Madison, Wisconsin. Dr. Benally Thompson is the course director for "Intensive Case-Based Training in Palliative Care" for Mayo Clinic, Rochester. Dr. Benally Thompson is a member of the American Academy of Hospice and Palliative Medicine, the American Academy of Family Physicians, and is a Board Member and Chair for the American Indian Cancer Foundation. He serves as a Council of Elders member for the American Indian Science and Engineering Society, where he was awarded the Ely S. Parker Award in 2015 for his significant contributions to, and impact on the Indigenous STEM and education community.