Wisconsin Fetal Alcohol Spectrum Disorders Treatment Outreach Project
Key DFM Personnel
Funding
State of WI Division of Mental Health and Substance Abuse Services
Abstract
The mission of WTOP (Wisconsin Fetal Alcohol Spectrum Disorders Treatment Outreach Project) is twofold: (1) to provide education, assessment and support around the issues of Fetal Alcohol Spectrum Disorders (FASD) in collaboration with Wisconsin's women-specific AODA treatment programs and their ancillary service providers, and (2) to serve women and children affected by prenatal alcohol exposure. WTOP is a project of the Family Empowerment Network, a resource and advocacy project serving families affected by FASD. All activities are family-centered and consumer driven.
Services provided by WTOP staff and partners include: clinical outreach (FASD screening and multidisciplinary assessment); referrals and follow-up services to women and children at risk; and technical assistance, training, and outreach education on FASD.
CLINICAL OUTREACH: Fetal Alcohol Syndrome outreach clinics in collaboration with the University of Wisconsin Clinical Genetics Center are held at women-specific AODA treatment center sites in Wisconsin.
FAMILY SUPPORT: FASTeN (Fetal Alcohol Syndrome Telephone Support Network) support group meetings for families are facilitated via Wisconsin's Educational Teleconference Network system. These monthly calls provide a mechanism for families affected by FASD to interact with one another for support and resources. For a schedule of FASTeN groups, click here.
EDUCATION/TRAINING: Project staff and collaborators provide education and training sessions on Fetal Alcohol Spectrum Disorders to health and human services providers, educators, criminal justice workers, families and others. These sessions range from short inservices to multi-day national conferences. For more information about Educational offerings, click here.
For more information please check out our "Pregnancy and Alcohol" Web site for women with questions about alcohol, pregnancy and prevention.
Public site primary links (section navigation)
Sidebar content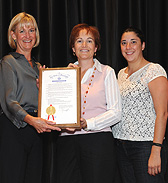 From L-R: Lt. Gov. Barbara Lawton, Georgiana Wilton, PhD, Raina Zwadzich.

Downloads
Web Site