We are pleased to offer medical students the opportunity for a summer elective at the Hudson River HealthCare (HRHC) located in the Hudson River Valley of New York.  This experience has been established to honor Michele Tracy's contributions to HRHC during her two years there as an AmeriCorps/Vista volunteer, and continue the relationship Michele established.  Michele was a second year UW medical student who was tragically killed while participating in an educational service program in Malawi Africa in July 1999.
Overall Goals for the Experience
Learn how health care is provided by Hudson River Health Care
Participate in clinical care
Participate in community health outreach
Return with photographs, summary highlights, and suggestions for future students
Externship Details
The externship will be 4-6 weeks (June, July or August). Dates are negotiated with HRHC. Only one student can be accommodated per summer.
Housing is available for a reasonable fee. A personal vehicle is needed to travel to various sites.
Funding will be provided to cover transportation, housing and cost of living expenses ($2,000 for 4 weeks; $2,400 for 6 weeks). Additional funding of up to $400 may be available for travel costs through the Michele Tracy Health Initiative.
How the Externship works: There are a variety of community outreach and patient care experiences available during the externship. It can be tailored to the interests outlined in your application. Specific details are worked out directly with HRHCare staff.
Application and Selection Process: Applications are due February 1, 2019. Applications will be reviewed and selection will be made by the Peekskill Externship Committee soon after.
Report Requirements: A final report describing your experience should be submitted prior to the beginning of the fall semester. This report will be shared with the Tracy family and will be available on the DFM website for others to read.
How to Apply: Complete the on-line application.
Questions? If you have any questions, please contact Joyce Jeardeau UW Dept. of Family Medicine and Community Health OMSE, email: joyce.jeardeau@fammed.wisc.edu phone: 263-1334.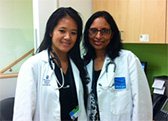 2014: Thy Vo (left) shadows with family physician Dr. Sumitra Dhanyamraju.
View Reports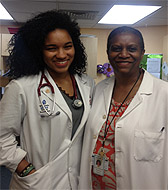 2013: Olga Yashira Diaz (left) at the Hudson River HeatlhCare Community Health Centers.