Key Personnel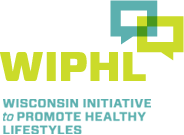 Department of Family Medicine:
Richard L. Brown, MD, MPH, Clinical Director
Mia Croyle, MA. Operations and training
Laura A. Saunders, MSSW, Health education curriculum design and training
Holly Whittlef, Director of Communications
University of Wisconsin Population Health Institute:
Robin M. Lecoanet, JD, Evaluation Manager
D. Paul Moberg, PhD, Associate Director for Evaluation
Candace Peterson, PhD,Project Manager
Brief Screening and Intervention (BSI) Improves Patient Health and Strengthens Communities
The Wisconsin Initiative to Promote Healthy Lifestyles (WIPHL) provides health care professionals with the information and tools they need to implement a cost-effective behavioral screening and intervention (BSI) program. The end result is improved patient care around alcohol, depression, tobacco and other behavioral issues and a 4:1 return on investment due to increased work productivity and decreased medical costs.
WIPHL advocates throughout the state to make sure that all the necessary players—providers, purchasers, insurers, and governments among them—are aligned to make BSI effective for patients and cost-effective for providers. The project aims to make BSI a standard part of basic health care in Wisconsin.
Alcohol causes more than $5 billion of damage in Wisconsin. WIPHL's evidence-based BSI services are proven to help clinicians improve their patients' lives, identifying and addressing problems before they reach crisis levels. Motivational Interviewing techniques help patients effectively make changes – because those changes align with their values, desires, and goals.
Currently, WIPHL is funded by three project-specific grants:
An Agency for Healthcare Research and Quality (AHRQ) grant currently drives recruitment of primary care clinics throughout the state. Participating clinics receive consultation and implementation support for providing BSI services as well as specific training and support for the health educators who deliver services in the clinics. This 3-year grant is a partnership with Pittsburgh Regional Health Initiative (PRHI) and the Wisconsin Collaborative for Healthcare Quality (WCHQ). It is administered by the UW Department of Family Medicine. It completes its work and evaluation in 2013.
A U.S. Substance Abuse and Mental Health Services Administration (SAMHSA) grant, during its service-delivery phase, included approximately 30 clinics and enabled more than 115,000 screens leading to more than 25,000 brief interventions. Results included a 20% decline in binge drinking, a 48% reduction in regular marijuana use, and a 55% reduction in depressive symptoms.  This 5-year grant is administered by the Wisconsin Department of Health and Family Services. It completes its work and evaluation in 2012.
A grant from the Wisconsin Partnership Program creates a partnership to build a pool of bachelor's level, certified health educators­­—who will be trained through Graduate Community Health Programs, UW-La Crosse. WIPHL is helping to create the new program. This 3-year grant is administered by the UW Department of Family Medicine. It completes its work and evaluation in 2014.
More information at: www.wiphl.org
Contact Us
1100 Delaplaine Ct.
Madison, WI 53715
Tel. (608) 263-4550
Fax (608) 263-5813
info@wiphl.org
SBIRT Wisconsin Stakeholder Testimonial
Patients Speak for SBIRT Wisconsin