The University of Wisconsin Department of Family Medicine and Community Health (DFMCH) promotes and enhances community health-related efforts in education, research and patient care.
Why? Because 80 to 90 percent of what keeps people healthy takes place not in the clinic, but in the day-to-day lives of individuals and families in the context of their communities.
To improve the health of communities, we:
Teach family physicians—and doctors learning to be family physicians—how to become community-responsive health professionals;
Work closely with patients to develop innovative health care models that promote healthy families and communities.
Support research that integrates patient voices into health care practice, and connects our faculty and staff statewide with community research partners.
To paraphrase Magda Peck, founding dean of the Joseph J. Zilber School of Public Health at UW-Milwaukee, we strive to support conditions in which everyone, every day and everywhere, can have equal chances and fullest opportunities to be healthy, to thrive and to live well and long—from generation to generation.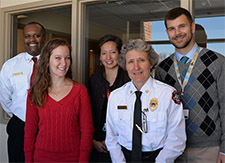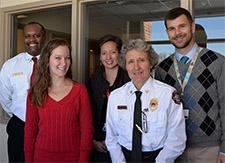 One way we're working to improve community health is through a partnership with the Madison Fire Department (MFD), Public Health Madison Dane County, and a Madison housing development for seniors and the disabled whose residents are high utilizers of city services and medical resources.
Together, we identify community needs, develop focused outreach services and identify similar support models that we could replicate at other locations.
Learn more about this project and other partnerships.
Community Outreach
Dr. Patricia Tellez-Giron Madison 365 honor – 39 most influential Latinos in WI