The Monroe Family Medicine Residency Program is committed to providing compassionate and comprehensive rural osteopathic primary care training that is rigorous and is personally fulfilling to the residents who train here.
Our program fosters the development of osteopathic physicians committed to rural practice in the Midwest. We are firmly committed to the growth of our physician learners; fostering a supportive, collegial environment which serves and enriches the communities that we serve.
Monroe Residency Interviews

We will be conducting virtual interviews with optional in-person events and a virtual Second Look. For more information regarding our interview season, please refer to our Monroe Residency Interviews page. 
Some key highlights of our program include:
Rigorous curriculum that includes both inpatient and outpatient experiences, as well as exposure to a wide range of medical specialties
Experienced faculty with a diverse range of interests
A focus on hands-on, experiential learning through a variety of clinical settings, including hospital-based medicine, outpatient clinic, and community outreach programs
A commitment to providing high-quality, patient-centered care to a diverse patient population
A supportive and collegial learning environment that fosters growth and development for residents at all stages of their training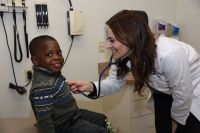 All residency positions in the program are designated as osteopathic and the program has built a strong following in Osteopathic Manipulative Therapy (OMT) for nearly a decade. Currently, OMT is the #1 billed procedure in our residency clinic and on average residents see one to two OMT appointments per half day of clinic.  The program partners with Midwestern University – Chicago College of Osteopathic Medicine for additional OMT workshops and training.
Residents primarily train at SSM Health Monroe Hospital, a nationally recognized community-based hospital. This is complimented by a limited number of rotations in Madison at SSM Health St. Mary's Hospital, and SSM Health Dean Medical Group.
The program features excellent training in ultrasound, OMT, inpatient and outpatient procedures, and offers sessions in an onsite simulation center. Strong volumes in clinic, inpatient, and the emergency department provide a solid foundation for a variety of careers in family medicine. Graduates of the program have secured the following positions:
Rural Hospitalist
Emergency Medicine Fellowship
Rural Family Medicine with Obstetrics
Palliative Medicine Fellowship
Rural Family Medicine Outpatient
Benefits: The program is pleased to offer a generous and competitive for residents in our program.
The program is in Monroe, Wisconsin, approximately one hour south of Madison, and two hours from Chicago.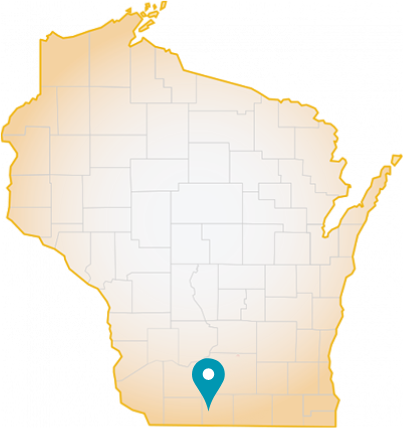 Contact
Stacey Steinmann, Residency Program Specialist
608-324-2859
Address & Map »
Eligibility
Eligibility Criteria (PDF)
Program Size
9 residents (3 per year)
City Size
10,537
Community Highlights
The Monroe area is continuously changing and has so much to offer. Monroe, Wisconsin and the surrounding area offer many beautiful parks and trails, an active arts community, distinctive retailers and diverse businesses, large and small. Like most small communities in southern Wisconsin, Monroe is known for its safety, friendliness and cleanliness. The Green County community is known for tourism, highly regarded breweries, cheesemaking, festivals, and wineries. Our fresh air and neighborly streets invite quiet evening strolls comparable to nothing urban settings have to offer. Please visit the wonderful, eventful town.