The UW Department of Family Medicine and Community Health (DFMCH) has long been a global health leader at the UW School of Medicine and Public Health (SMPH). Our department has a strong tradition of involvement in global and "g-local" work. DFMCH faculty and residents at our continuity clinics serve families with refugee, immigrant or undocumented status who often face health realities witnessed in resource-limited global settings. Through globally-minded faculty, fellows and residents, the DFMCH has been active on many continents. Some of these positions and activities have included:
DFMCH Grand Rounds: "Global Health in Our Backyard: Viva Ecuador!" by David Kiefer, MD, and Doug Kieler, M2, from Sept 20, 2023
President of the World Organization of Family Physicians (WONCA)
Creators and active trainers of the Advanced Life Support in Obstetrics (ALSO®) and Basic Life Support in Obstetrics (BLSO℠) now taught throughout the world
Established ALSO programs in Ecuador, Ethiopia, Ghana, Guatemala, Honduras, India, and Paraguay
Consultant to the World Health Organization (WHO)
Establishment of family medicine in Pakistan, Uganda, Ethiopia, and Ecuador
Created a mobile health application and management strategy for diabetes care in partnership with Guatemalan community health workers
Prolotherapy training in Honduras
Founding Director of the UW Center for Global Health (now Global Health Institute)
See our featured story about a DFMCH colleague learning and working globally.
Global Health Pathway
Residents in the DFMCH with an interest in global health are encouraged to augment their training by participating in the global health pathway. This individualized educational opportunity affords residents the chance to participate in specially designed electives and rotations including up to 6 weeks at an approved international site or US-based location with "glocal" applications such as Native Nations health, border health, care of refugees, etc. Faculty with global health expertise serve as individual mentors for residents to guide them throughout their three-year training, connecting them with university resources and tailoring their training to meet the resident's career plans after residency. The goal of the global health pathway is to promote the multidisciplinary skills and knowledge in residents to become leaders in the health of populations both locally and beyond.
See more details about the global health pathway.
Fundamentals of Global Health Course
Residents on the global health pathway will take the UW Fundamentals of Global Health course in the fall of their R2 and R3 years along with residents from other specialties with similar interests. Residents experience simulated global health scenarios in the UW Health Clinical Simulation Program as well as lectures, small group sessions, and other activities to emphasize cultural humility, responsible and ethical practices, and collaboration with colleagues and community partners.
UW Global Health Institute (GHI)
To bring together faculty and resources from across the campus, the university has a
Global Health Institute
. Their vision is to advance equitable and sustainable health across Wisconsin and the world. The GHI areas of focus are:
Strengthening Health Care Systems

One Health (human-animal-environment)

Climate Change and Health

Livable Cities and Healthy Transportation Systems

4W Initiative: Advancing Women and Well-being in Wisconsin and the World

Planetary Health
The UW SMPH emphasizes our unique commitment to individual and population health. Residents on the global health pathway will have the opportunity to work with and learn from this exciting cross-campus network.
Questions about global health? Please contact:
Ann Evensen, MD, FAAFP
DFMCH Director of Global Health
ann.evensen@fammed.wisc.edu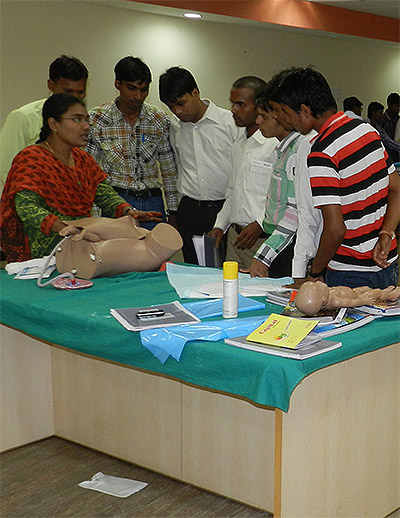 DFMCH faculty have helped to establish family medicine in Pakistan, Uganda, Ethiopia, and rural Ecuador.
Contact Info
Ann Evensen, MD, FAAFP
DFMCH Director of Global Health
Faculty Director, Graduate/Professional & Capstone Certificates in Global Health Online