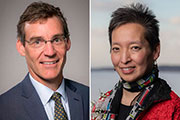 UW Department of Family Medicine and Community Health Welcomes New Leadership
David Rakel, MD, a nationally recognized leader in integrative medicine, became the ninth chair in the 51-year history of the UW Department Family Medicine and Community Health (DFMCH) on July 12, 2021. He's joined by Jennifer Edgoose, MD, MPH, who accepted the role of executive vice chair and will also serve as the department's inaugural vice chair for Community Health, Diversity, Equity, and Inclusion.
The UW Department of Family Medicine and Community Health advances health and well-being by caring, teaching, discovering, leading, and connecting.
We offer exceptional residency, medical student and fellowship educational programs; provide outstanding patient care; conduct innovative research and promote community health.
We believe in the importance of diversity and inclusion and are intentionally making efforts to learn, grow and collaborate with community and academic partners to improve the health of all people.
We invite you to learn more about us and encourage you to get in touch to learn more about our work.

Our Office of Community Health has compiled a list of COVID-19 Community Resources for assisting marginalized populations.