Gundersen has a long history (dating back to 1955) of excellent graduate medical education in multiple specialties. Gundersen Health System Graduate Medical Education was recognized as a Baldwin Award winner, for being one of the top institutions in the country promoting an excellent learning environment for graduate medical education.
In addition, Gundersen is the Western Academic Campus for the University of Wisconsin School of Medicine & Public Health as well as a site for the Wisconsin Academy for Rural Medicine (WARM) Program.
For more information, visit the Gundersen Health System Family Medicine Residency Program Web site.
Family Medicine Program Highlights
You will be the only residents in the important areas of inpatient pediatrics and obstetrics/gynecology and a strong partnership with the residencies for internal medicine and general surgery
Exceptionally high quality integrated health system named as a Top 50 Hospital in the country by Healthgrades.
Opportunity to live in resident housing located on the Gundersen campus. This promotes a strong sense of community and is walking distance to the clinic and hospital.
Competitive benefits package.
New and state-of-the-art Family Medicine Residency clinic and hospital.
State of the art simulation center.
Ahead of the curve on environmental issues, technology, research and medical education.
Community and global health outreach.
Excellent work-life balance.
Community Highlights
La Crosse, Wis., sits between bluffs and the Mississippi River in a region also known as the Driftless Region. We have a historic downtown and riverfront area. In La Crosse and surrounding communities you'll find an endless variety of activities including outdoor recreation and bike trails, entertainment, shopping, dining and scenic beauty. This family-friendly community offers excellent schools and universities, parks, sports venues and affordable housing making this a great place to live, work and play.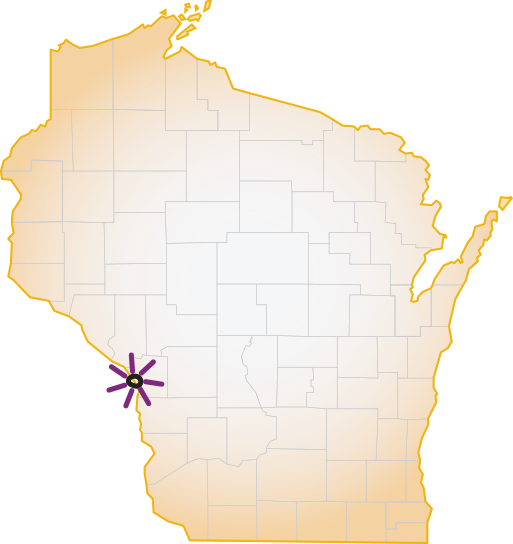 Contact
Email: Paula Ebert 
(608) 775-1540
Program Size
18 residents (6 per year)
City Size
Gundersen is based in La Crosse, WI, a city of more than 51,000 people. It's the largest city in La Crosse County (population: 118,000).
Practice Setting
In addition to our clinic and hospital in La Crosse, Wis., we have 27 regional clinics in smaller, mostly rural communities. Our integrated health system serves 19 counties in western Wisconsin, southeastern Minnesota and northeastern Iowa.