Centering community voices in healthcare practice, education, and research
What is the role of the Office of Community Health?
We center community voices in health care research, education, and practice by
Building relationships with community partners
Educating and training the health care workforce
Engaging in research, evaluation, and quality improvement initiatives for health programs
Advocating for systems and policy changes
Why do we need the Office of Community Health?
Communities are experts in their own strengths, needs, and social conditions.
Research has established that 80% of what impacts health is determined outside the clinic. Nevertheless, it is the clinicians, researchers, and educators who often define health issues and set the agenda for improving health from within clinic walls.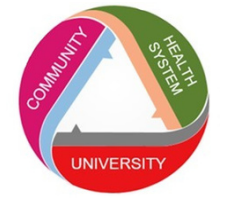 Bringing together the expertise of key players to promote healthy communities where everyone can thrive for generations.
Centering community voices is the key to a vibrant, thriving society where health systems equitably support wellbeing for all. If the work of health systems and universities can be redirected to engage with community-specific barriers, assets, knowledge, and opportunities, we can collaboratively construct new systems to promote health for all people.
Contact Us
Shelly Shaw, MPH
Director
michale.shaw@fammed.wisc.edu
Jennifer Edgoose, MD, MPH
Vice Chair of Community Health, Diversity, Equity, and Inclusion
jennifer.edgoose@fammed.wisc.edu
General Inquiries:
communityhealth@fammed.wisc.edu