Black Lives Matter
In 2018 the Wisconsin Public Health Association passed a resolution Racism is a Public Health Crisis in Wisconsin. As employees of UW Health and UW SMPH, we belong to organizations that have signed-on to this declaration.
We must breakdown systemic policies and practices that fuel the current state of affairs and we must do that together with people of color in our own department and in our own communities.  Now is the time to not only invite, but also center the perspective of voices that have not been included at the decision-making tables.
We must take the time to look both outward and inward. Madison-based organization Nehemiah and Justified Anger has created this helpful graphic as a starting point: Racial Justice: What you can do!
Let us actively engage in opportunities to be better, more inclusive, more loving, more forgiving, more just. Let us rise together as a department to strive to become anti-racists.
Jennifer Edgoose and Shelly Shaw
DFMCH Office of Community Health
Anti-Racist Educational Resources: A starting point
Diversity at the UW Department of Family Medicine and Community Health
Diversity is integral to the mission and vision of the UW Department of Family Medicine and Community Health (DFMCH). We partner with the UW School of Medicine and Public Health (SMPH) and UW Health to promote diversity, inclusion and health equity in our own institution. We also collaborate with academic peers nationwide on strategies and models for addressing diversity issues at other institutions.
Since 2015, our department has a Diversity, Equity, and Inclusion (DEI) Committee comprising faculty and staff from the DFMCH, SMPH and UW Health.
Our mission: DFMCH's Diversity, Equity, and Inclusion Committee exists to promote health equity, diversity and inclusion, and to advise on processes related to recruitment and retention of diverse learners, faculty and staff.
Our vision: To ensure TRUST
T (Tracking)
R (Recruiting)
U (Unlearning and learning)
S (Sustaining and retaining)
T (Training and transformation)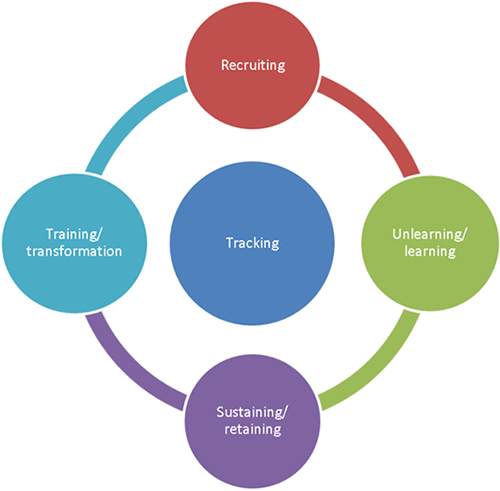 We believe that:
Social identities such as race, ethnicity, gender, and others are social constructs embedded within a context of unequal power relationships that allow privileged groups to benefit at the expense of marginalized groups.
Equity assures justice and fairness for all by addressing systemic biases in policies and practices and assures that health equity drives the culture and actions of the department.
Inclusive practices assure that dominant and privileged voices are decentralized to create full and equal participation and access for all groups.
Bringing a healing attention first to our own privileges and unconscious biases allows us to mindfully engage in equity and inclusion work while serving as equity and inclusion leaders for the department.