Here is a sampling of some of our current community health collaborations and projects. To learn more about a project, or the DFMCH's Office of Community Health, please email communityhealth@fammed.wisc.edu.
Food is Medicine: A Multi-level Approach to Developing Healthy Food Systems
Since 2015, the DFMCH Verona Clinic garden has been partnering with Madison Area Food Pantry Gardens (MAFPG) to grow culturally-relevant produce for local food pantry Badger Prairie Needs Network (BPNN), filling a previously unmet need for high-nutrient foods at the pantry. Social and structural barriers lead to nutrition deserts for marginalized and minoritized communities in Dane County, who suffer worse health outcomes as a result. Through the support and advocacy of Dr. Brian Arndt, Verona Clinic site lead and MAFPG Board of Directors volunteer development director, many clinicians, residents, students, and community members have helped tend to the garden, learning about nutrition and where their food comes from. ChopChop Family Cooking Club, established at BPNN in 2017 by Dr. Ally Couture, provides cooking classes for kids and their families in English and Spanish, to not only ensure community members have access to fruit and vegetables but also are supported in learning how to prepare them.
Through mentorship and partnership, these food security efforts have grown beyond Verona Clinic. One of Dr. Arndt's collaborators, Happy Xiong, MPH, has been working with the Hmong Institute and MAFPG to improve food security for the Hmong community. DFMCH Resident Caroline Hensley, MD, has been collaborating with Dr. Arndt to support the development of a food pantry at Wingra Clinic.
Black Men's Health Center Virtual Mental Health Event During Pandemic
DFMCH faculty Dr. Jonas Lee is a regular panelist for a bi-weekly Facebook Live support group event with the Rebalanced-Life Wellness Association (RLWA), a Black men's health center run by Aaron Perry and located inside JP Hair Design, a Black Barbershop. RLWA is currently focusing on mental health concerns exacerbated by the Coronavirus Pandemic.
Supporting Latino Communities in Dane County During COVID-19

Relief Fund: As part of the Latino Consortium for Action, DFMCH faculty Dr. Patricia Tellez-Giron and the Latino Health Council have worked in partnership to raise over $600,000 to support vulnerable community members and micro-businesses in Dane County. This kind of support to those who are not able to access other federal aid is essential in addressing social determinants of health during economic crisis and mitigating the impacts of COVID-19 in our community.
Information Campaign: Dr. Tellez-Giron has participated in multiple Facebook Live interviews with Madison, WI radio station La Movida to provide information to Spanish-speaking communities in Dane County. These live and recorded conversations have been essential in bridging information gaps for those who predominantly speak Spanish in Dane County.
Presentation by Dr. Tellez-Giron on December 16, 2020 to DFMCH staff and faculty: Providing for Our Own, Protecting All: Latinx grassroot community organizations rapid response to the COVID-19 pandemic
Access Community Health Center / Wingra Family Medical Center Partnership
The DFMCH's Wingra Family Medical Center partners with Access Community Health Centers to improve the health of people in South Madison and beyond.
The partnership provides adults, children and families with access to high-quality, culturally competent primary care in a Federally Qualified Health Center that's recognized as a Level III Patient-Centered Medical Home by the National Committee for Quality Assurance.
The clinic offers integrated behavioral health services, dental care referrals, discounted pharmaceuticals and prenatal care. It ensures continuity of care for low-income and medically underserved populations, helping to reduce emergency department and hospital visits—and making a positive impact in the community.
The clinic also serves as a valuable site for health systems researchers developing best practices to serve diverse patient populations. In addition, DFMCH residents establish continuity practices at the clinic, which provides them with valuable skills to become community-responsive health care professionals and makes them more likely to work in underserved communities in their future practices.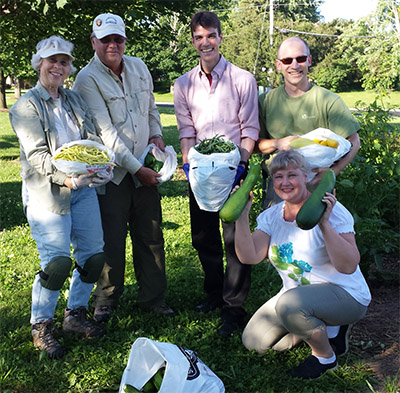 DFMCH faculty, staff, residents and community advisors created a food pantry garden at the UW Health Verona Clinic. In 2022, the garden yielded over 800 pounds of culturally relevant produce, which was donated to the Badger Prairie Needs Network. From left, community advisors Martha and Douglas Maxwell; faculty Vincent Minichiello, MD; faculty Brian Arndt, MD; and radiologic technician Elena Prozorova.