Here is a sampling of some of our current community health collaborations and projects. To learn more about a project, or the DFMCH's Office of Community Health, please email communityhealth@fammed.wisc.edu.
Black Men's Health Center Virtual Mental Health Event During Pandemic
DFMCH faculty Dr. Jonas Lee is a regular panelist for a bi-weekly Facebook Live support group event with the Rebalanced-Life Wellness Association (RLWA), a Black men's health center run by Aaron Perry and located inside JP Hair Design, a Black Barbershop. RLWA is currently focusing on mental health concerns exacerbated by the Coronavirus Pandemic.
Supporting Latino Communities in Dane County During COVID-19

Relief Fund: As part of the Latino Consortium for Action, DFMCH faculty Dr. Patricia Tellez-Giron and the Latino Health Council have worked in partnership to raise over $600,000 to support vulnerable community members and micro-businesses in Dane County. This kind of support to those who are not able to access other federal aid is essential in addressing social determinants of health during economic crisis and mitigating the impacts of COVID-19 in our community.
Information Campaign: Dr. Tellez-Giron has participated in multiple Facebook Live interviews with Madison, WI radio station La Movida to provide information to Spanish-speaking communities in Dane County. These live and recorded conversations have been essential in bridging information gaps for those who predominantly speak Spanish in Dane County.
Presentation by Dr. Tellez-Giron on December 16, 2020 to DFMCH staff and faculty: Providing for Our Own, Protecting All: Latinx grassroot community organizations rapid response to the COVID-19 pandemic
The Prairie Kitchen at the Badger Prairie Needs Network
The DFMCH's Melissa Stiles, MD, and Brian Arndt, MD, are partnering with the Verona Senior Center, the Badger Prairie Needs Network (BPNN) and local market Hy-Vee to help seniors learn how to prepare nutritional, affordable meals—and learn how good nutrition can help improve their health.
They've creating the Prairie Kitchen Cooking Club, a monthly two-hour class for people aged 55 and over from around Dane County. The class kicks off with an introductory nutrition presentation by Dr. Stiles and a Hy-Vee dietician. Participants then prepare a meal together using recipes that work in smaller portions and that use ingredients available at BPNN's food pantry.
Treating COVID-19 with Chloride
DFMCH Fellow Dr. Maria Mora Pinzon was interviewed by Univision (national news) about the use of chloride to treat coronavirus. (April 28, 2020)
Hmong Community Health Needs Assessment
Hmong physician Kevin Thao, MD, MPH, a faculty member at the DFMCH's affiliated Wausau Aspirus Family Medicine Residency Program, is partnering with the Aspirus Health Foundation, the B.A. and Esther Greenheck Foundation and other local organizations to launch the Survey of the Health of the Wausau Area Hmong Population.
The study aims to determine the prevalence of diseases such as hypertension, diabetes and heart disease in the Hmong, and identify the extent of and reasons for disease disparities between the Hmong and the general population.
Dr. Thao is also building a coalition of local organizations that are working to improve Hmong health in Wausau.
Community Hot-spotting Partnership
DFMCH residents, faculty and staff are collaborating with the Madison Fire Department (MFD), Public Health Madison Dane County, and local neighborhood residents on a pilot outreach project called "CARE: Community Action Resource and Education."
They're meeting monthly with residents of the Dryden Terrace apartments, a housing development for seniors and the disabled located near the UW Health Northeast Family Medical Center in Madison. It's an outgrowth of "hot-spotting" by MFD that identified Dryden Terrace as a focus of disproportionate resource utilization in Madison.
The project is an opportunity for DFMCH, MFD, Public Health Madison Dane County and community members to identify community needs, develop focused outreach services and potentially replicate similar support models at other locations.
Access Community Health Center / Wingra Family Medical Center Partnership
The DFMCH's Wingra Family Medical Center partners with Access Community Health Centers to improve the health of people in South Madison and beyond.
The partnership provides adults, children and families with access to high-quality, culturally competent primary care in a Federally Qualified Health Center that's recognized as a Level III Patient-Centered Medical Home by the National Committee for Quality Assurance.
The clinic offers integrated behavioral health services, dental care referrals, discounted pharmaceuticals and prenatal care. It ensures continuity of care for low-income and medically underserved populations, helping to reduce emergency department and hospital visits—and making a positive impact in the community.
The clinic also serves as a valuable site for health systems researchers developing best practices to serve diverse patient populations. In addition, DFMCH residents establish continuity practices at the clinic, which provides them with valuable skills to become community-responsive health care professionals and makes them more likely to work in underserved communities in their future practices.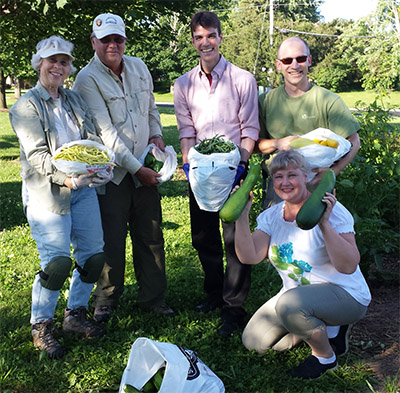 DFMCH faculty, staff, residents and community advisors created a volunteer garden at the UW Health Verona Clinic. In 2015, the garden yielded over 700 pounds of food, which was donated to the community. From left, community advisors Martha and Douglas Maxwell; resident Vincent Minichiello, MD; faculty Brian Arndt, MD; and radiologic technician Elena Prozorova.