Fruits and vegetables have a significant impact on overall health and are essential to creating community-level nutrition security—the consistent and equitable access to healthy, safe, and affordable foods essential to optimal health and well-being. The 2020-2025 Dietary Guidelines for Americans recommend adults consume 1.5-2 cup equivalents of fruits and 2-3 cup equivalents of vegetables daily to prevent and treat nutrition-related chronic conditions including obesity, type 2 diabetes, cardiovascular disease, and cancers. Unfortunately, only 1 in 11 (11.6%) adults in Wisconsin with low income meet the fruit intake recommendations and 1 in 14 (7.6%) meet the vegetable intake recommendations.
The White House Conference on Hunger, Nutrition, and Health was held in September 2022 and was the first such conference convened by the White House in more than five decades. It outlined five "pillars" for reducing hunger in the US and improving nutrition security:
Improving food access and affordability
Prioritizing the role of nutrition and food security in health including the prevention and management of disease
Help consumers make healthy food choices (and have access to healthy foods)
Supporting physical activity
Enhancing nutrition and food security research.
Dr. Brian Arndt, a physician at the UW Health Verona Clinic, believes access to fresh produce is crucial to treating and preventing nutrition-related chronic conditions. He has worked with the Madison Area Food Pantry Gardens (MAFPG) since 2007 to provide people living with nutrition insecurity access to high quality, fresh, and culturally relevant produce. Over the years, Arndt has inspired a shared vision to ensure "Wisconsin EATS Healthy" (Enhanced nutrition security for all, Amplified partnerships and collaboration, Transformed regional food system, Sustainable practices and economic stability). Numerous partners have influenced the evolving vision and helped inspire the development of his DFMCH food is medicine website. The website emphasizes increasing access to local produce, providing healthy snack and meal planning ideas, and linking clinicians and their patients at the point of care to resources including FoodShare, nutrition incentive programs such as Double Dollars, and insurance benefits related to food is medicine such as medically tailored meals for patients with congestive heart failure.
"It is critical to understand factors leading to low produce consumption among individuals with low income in Wisconsin and to identify roles and relationships among partners in our produce supply chain who can collaborate to increase it. We need to keep working together to increase the emergency food system's fresh local produce supply, aggregate it, lightly process it, and distribute it with coordinated transportation logistics," explained Arndt. "As we do this, we'll naturally shift our focus from addressing food insecurity to the creation of nutrition security." Clinicians have daily opportunities to improve community-level nutrition security by linking our patients to local produce options. I hope the website is a springboard at the point of care to facilitate conversations about how to practically increase overall produce consumption."
Planting The Seed
When MAFPG was founded in 2000, the goal was to provide local food pantries with excess produce collected from farmers' markets, but the demand proved much greater than the supply. Soon partnerships were established with generous landowners to create gardens to specifically supply food pantries throughout Dane County. With advocacy and leadership provided by Dr. Arndt and Dr. James Bigham (formerly a Verona Clinic resident, now at UW Health Odana Road Clinic), the UW Health Verona Clinic Food Pantry Garden was created in 2008 as part of that collective. Its yield supplies about 1000 pounds of produce annually to the Badger Prairie Needs Network in Verona. Other MAFPG partnerships have sprouted at eight other Dane County locations, and collectively the garden network has contributed 2.3 million pounds of produce over the past two decades to 30 food pantries and other food programs throughout Dane County.
Tending The Crops
According to Arndt, collecting surplus produce from farms and markets (gleaning) and growing produce are both critical to MAFPGs' mission but none of it would be possible without volunteers, as MAFPG only has a single paid employee (Forward Garden farm manager). Annually, about a quarter of the total produce donated is gleaned. In 2022, over 2,000 volunteers of all abilities and backgrounds, regardless of previous gardening experience, worked over 10,000 hours to glean, plant, maintain, harvest, package, and distribute produce. That's more than double the volunteers the program boasted prior to 2020. During the early days of the pandemic when pantries and food programs had to pivot in their distribution logistics, MAFPG volunteers and community partners chopped veggies and created 10-oz steamer bags with bilingual labels.
The influx of volunteers has allowed MAFPG to expand total acres planted with a continued focus on more than 60 culturally relevant crops including bok choy, okra, tomatillos, hot peppers, bitter melon, collard greens, mustard greens, Asian eggplant, and perennial fruits including strawberries. The 2022 harvest increased 40% compared to 2020 providing 30 organizations nearly 120,000 pounds of fresh produce. It was distributed through the food pantry network and local meal programs including healthy snack and weekend meal programs in several local schools where 1 in 6 kids don't have regular food access.
Harvesting a Brighter Future
Arndt hopes the latest expansion with Forward Garden at the 15-acre Pope Farm Homestead in the Town of Middleton will help meet the increasing demand. Forward Garden is adjacent to the 105-acre Pope Farm Conservancy, the new Pope Farm Elementary School, and the future Pope Farm Middle School. The proximity of the garden to the schools offers an opportunity to get students involved in the mission while they learn about the lifecycle of plants while simultaneously cultivating a spirit of service to our community.
Focusing on Sustainability
As the volunteer base increases, expansion plans at Forward Garden include planting orchards and terraced gardens as well as an onsite greenhouse with hydroponic growing technology to get closer to a year-round fresh produce growing model.
"Having nearly 1,500 students adjacent to the farm who can help tend to our flock of 30 chickens and learn the nitrogen cycle through hydroponics all while learning how to feed a community and nurture nature seems like part of the holy grail in experiencing the excitement of what our future of community medicine can look like," explained Arndt.
Efforts to honor conservation and reduce food waste are also part of MAFPGs' expanding mission. A high-volume rainwater collection system nourishes the plots, and a high-tech onsite walk-in cooler helps ensure the freshest produce possible reaches food partners (typically within 24 hours of harvest). MAFPG contributes imperfect produce to Little John's Kitchens who processes it and incorporates it into chef-quality microwave ready meals, which further reduces food waste while serving our community's needs. A pilot started in the spring of 2022 to collect pre-consumer compost from BeneBlends, Forage Kitchen, These Days Juice Co, the Verona Clinic's breakroom, and a few individual households, including Dr. Arndt's, has saved more than 20,000 pounds of food waste from the Dane County landfill and in turn created healthier soil at Forward Garden.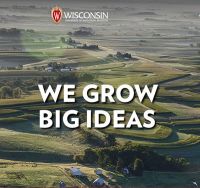 More Information
Wisconsin EATS Healthy and the DFMCH's evolving food is medicine website: https://www.fammed.wisc.edu/food-is-medicine/
Madison Area Food Pantry Gardens visit: https://foodpantrygardens.org/index.html
Suggestions for web content, brian.arndt@fammed.wisc.edu
Published: October 2022 | Updated: December 2022 | Updated March 2023