Eau Claire is located in the Chippewa Valley in west-central Wisconsin, 90 miles east of Minneapolis and St. Paul, MN. Eau Claire is the 9th largest city in the state, with a population of 65,883.   Thrillist Travel recently named Eau Claire the best small town to visit in Wisconsin, and. Eau Claire ranked number one on a recent episode of Discover Wisconsin titled "Hidden Gems: 10 of Wisconsin's Most Underrated Towns."  In June 2014, Eau Claire was designated an All-America City by the National Civic League, an award given to only 10 U.S. cities.
Options for higher education in Eau Claire include the University of Wisconsin-­Eau Claire, Chippewa Valley Technical College, and Immanuel Lutheran College.
The Chippewa Valley area is home to a multicultural population which includes Asian, African American, Hispanic, and Amish residents.
The combined factors of a strong performing arts community, a wide variety of  sporting events and recreational options, thriving industries, the low cost of living, numerous parks and many trails for biking and walking make Eau Claire an outstanding place to live.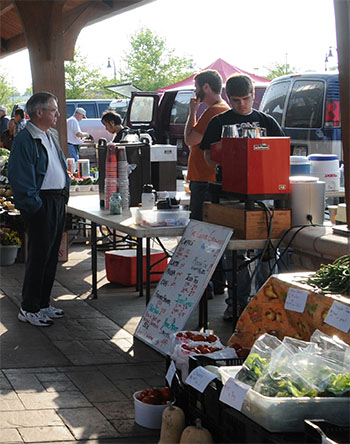 Eau Claire farmer's market.
More Info