The annual Renner-Hansen awards (watch recording or view photo album) returned to an in-person format on May 24 to celebrate the recipients of the Marc Hansen, MD, Lectureship; John H. Renner, MD, "Wisconsin Idea" award; and several other honors.  DFMCH Chair David Rakel, MD, kicked off the ceremony by thanking award namesake Dr. Marc Hansen for his vision in starting the department almost 52 years ago. He went on to honor faculty and staff retirees from 2020-2022 and presented a special Chair's Award to Valerie Gilchrist, MD, who served as DFMCH chair from 2008-2020.
The night also served as an opportunity to recognize the leadership of Dr. Bill Schwab who served as interim chair for 18 months and ushered the department through the early stages of the COVID-19 pandemic and the tragic loss of colleague and friend Beth Potter, MD, and her husband Robin Carre. The moment of reflection was followed by messages of hope for the future and praise for the Renner-Hansen honorees on the night's program.
John H. Renner "Wisconsin Idea" Award: David Deci, MD
David Deci, MD, received the John H. Renner, MD, "Wisconsin Idea" Award for his exemplary commitment to family medicine and the health and needs of the people of Wisconsin.  He joined the DFMCH in 2009 as director of medical student education and maintained a clinical teaching practice in Belleville until his retirement in July 2020.
"Dr. Deci has inspired countless learners to pursue family medicine and care for the most vulnerable in our communities," noted Jennifer Edgoose, MD, executive vice chair and vice chair of community health, diversity, equity, and inclusion, in her introduction.
In his presentation, "Lessons from the Margins: A Pathway to Joy," Dr. Deci reflected on the lessons he's learned during a career that spans over three decades. He shared his experience helping launch the student-driven Morgantown Outreach to Unsheltered Homeless (MUSHROOM) program in West Virginia in 2005 and his work with people experiencing homelessness after Hurricane Katrina devastated New Orleans that same year. Taking medicine to the street and meeting people where they are had a profound impact on his life and career.
"Oftentimes some of the most important lessons we learn come from others that we didn't even recognize could be our greatest teachers," shared Deci.
Throughout the presentation, Dr. Deci urged the audience to go out of their comfort zones, shatter stereotypes and offer care without judgement and with great love.
"Look inward at your own lives, in your own practices, in your own communities and find those touch points that can really liberate you in finding a pathway to true joy," added Deci.
Hansen Lecturer: Sarah James, DO, FACOFP
Following the recognition of several other award recipients, Dr. Edgoose introduced the night's closing speaker and Marc Hansen, MD, Lecturer, Sarah James, DO. Dr. James is the director of osteopathic education for DFMCH as well as four other programs throughout the state. Among the many contributions as an educator that made her an obvious choice for the award, Dr. Edgoose noted her development of an osteopathic treatment curriculum and tool for preceptors currently used by 20 programs throughout the country.
After completing her osteopathic medical education at Des Moines University and her family medicine residency at Columbia St. Mary's in Milwaukee, she pursued an additional year of training in neuromusculoskeletal medicine at the Texas College of Osteopathic Medicine in Fort Worth.
In her presentation, "Osteopathy in Wisconsin: a DFMCH Legacy," Dr. James described the history and tenets of osteopathic medicine before acknowledging the people who helped found and expand the program at the University of Wisconsin including Drs. Jeff Patterson, Marguerite Elliot, Brian Earley, Hollis King, and Mark Robinson.  Each was instrumental in contributing to a program that now boasts six educational sites throughout the state with a shared director and faculty.
In closing, Dr. James explored how the tenets of osteopathic medicine resemble the tenets of DFMCH as a department that continues to rise and innovate through its foundation to improve education and the health of our communities and beyond.
"It has truly been my honor to carry on this legacy because we really have something great here," concluded James.
Robert Drachenberg Staff Excellence Award: Randy Ballwahn
Graduate Medical Education Program Manager Randy Ballwahn received the award for his positive attitude and ability to see the big picture when dealing with financial and compliance issues.
James E. Davis, MD, MS, Quality Improvement Award: UW Health Belleville Family Medicine Clinic
Jennifer Lochner, MD, and Valerie Glichrist, MD, accepted the award on behalf of the Belleville clinic. Faculty and staff at the clinic received this award for their work improving advanced care planning engagement.
Richard G. Roberts, MD, JD, Clinical Excellence Award: Mary G. Thompson, MD
Mary G. Thompson, MD, received the award for her work as an outstanding family physician who always puts her patients first and acts as a fierce advocate for those under her care. After completing her residency at DFMCH, Dr. Thompson started her career at the Monona Grove Clinic in 1990 and continues to serve patients at the Odana Road Clinic.
William E. Scheckler, MD, Research Awards: Edmond Ramly, PhD, MS; Sharon-Rose Narty
Edmond Ramly, PhD, MS, received the William E. Scheckler, MD, Outstanding Research Publication Award (faculty or staff) for his publication reporting the first implementation study of large-scale data-driven quality improvement in assisted living, including implementation outcomes, core components, and implementation strategies building on a decade-long public-private collaboration.
MD/MPH candidate Sharon-Rose Narty received the William E. Scheckler, MD, Outstanding Research Publication Award (student) for her paper, "Combating Anti-Vaccination Misinformation: Improving Immunization Rates of Black/African American Children at UW Health. "
Congratulations to all the recipients!
Watch a Recording of the Presentation
More Event Photos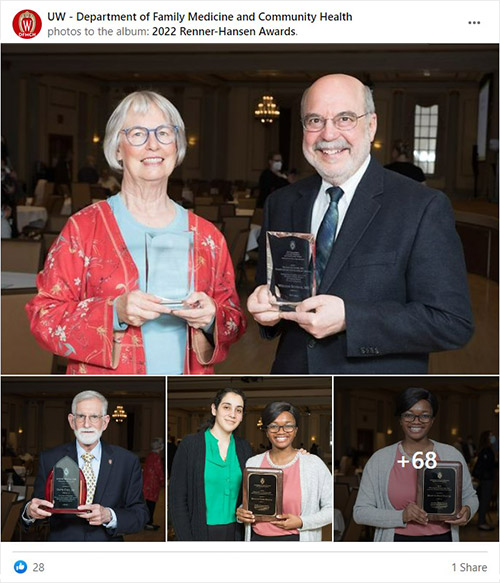 On Facebook: UW – Department of Family Medicine and Community Health – 2022 Renner-Hansen Awards
Published: June 2022