Strengthening Treatment Access and Retention-Quality Improvement (STAR-QI)
(Formerly known as STAR-SI)
Key DFM Personnel
Richard L. Brown, MD, MPH - Principal Investigator
Deanne Boss, MS - STAR-QI Program Director
Collaborators
Joyce Allen, Director, WI Bureau of Mental Health and Substance Abuse Services
Michael Quirke, Program Evaluation Coordinator, Bureau of Mental Health and Substance Abuse Services
Funding
Wisconsin Department of Health Services (DHS)
Program Summary
The Wisconsin STAR-QI Program began in October 2006 as a three-year grant from the U.S. Substance Abuse and Mental Health Services Administration (SAMHSA). The purpose of the grant was to use the Network for the Improvement of Addiction Treatment (NIATx) Quality Improvement Model to improve organizational processes at the State and treatment agency level to impact client access to and retention in outpatient substance abuse treatment services. The STAR-QI Program has been so successful, that DHS has continued to fund it through September 2013.
The STAR-QI quality improvement projects aim to:
Reduce the wait time between a client's first request for service and the first treatment session
Reduce client no-shows
Increase addiction treatment centers' admissions
Increase the treatment continuation rate between the first and fourth treatment sessions
Collecting and reporting data is central to the NIATx model. Provider agencies collect baseline data before beginning a change. During the rapid-cycle quality improvement cycle, the agency continues to collect data, which they study to determine how the change impacted services. Change Teams at the provider agencies use their data to decide whether to adopt, adapt, or abandon their change project and to decide which quality improvement projects to pursue next.
Spread and sustainability are important concepts in the NIATx model. Initially ten Provider Organizations were participants in the first grant year. As we begin our seventh year, 50+ agencies are currently participating and outreach efforts are continuing.
In the Spotlight: AIDS Resource Center of Wisconsin
AIDS Resource Center of Wisconsin's (ARCW) Process Improvement Change Project is under the leadership of Kevin Roeder, Ph.D, MSW, LCSW, Director of the Behavioral Health and Wellness Clinic (BHWC). BHWC has nine locations around the state of Wisconsin, and this STAR-QI's quarter's "Spotlight" focuses on the quality improvement efforts of the ARCW STAR-QI Change Team located at the Milwaukee clinic.
Dr. Roeder's Change Team chose to focus on implementing an Evidence Based Practice (EBP) Change Project for the 2013-2014 STAR-QI Program Year, with their EBP of choice being Motivational Interviewing (MI). MI is a person-centered communication method of fostering change, by helping a client explore and resolve ambivalence, which may result in improved alcohol and or drug treatment outcomes. While ARCW had been utilizing MI in their treatment practices for some time, their goal in choosing this Focus Area was to incorporate the recent updates that had been made to MI, into the clinical practices of their treatment services and primarily in their outpatient Day Treatment groups. Recent advances in MI pertain mainly to the development of a new paradigm or way of looking at the change process, also known as the four processes; and how a provider can better or more effectively influence the process of personal/individual change. Therefore, training materials and staff training time was dedicated for the acquisition of knowledge as it pertains to updates in MI.
A MI Clinician Self-Assessment Report was developed and refined that allowed clinicians to assess themselves, while a clinical supervisor used the same tool to document or acknowledge how many opportunities existed during the group session and of these, how many opportunities resulted in provider use of MI techniques.
Two random outpatient group AODA sessions were observed by the Associate Director of the BHWC. Observed session content was used for analysis in the following domains:
The number of opportunities that existed to apply MI techniques and skills in the group session reflecting the new paradigm
The number of opportunities that were capitalized upon by group co-facilitators in using MI techniques when such opportunities existed.
The target goal was to have new MI techniques utilized by group co-facilitators at least 80% of the time.
Final results showed that one provider was observed using MI techniques about 76% of the time while the other did so about 66% of the time. This resulted in discussing additional opportunities for professional development and incorporation of updated MI into AODA counseling sessions.
In addition to improving the treatment outcomes for individual clients, effectively implementing an EBP was also critical to ARCW from a revenue generation perspective. As the agency transitions from grant funding to third party payer reimbursement, ARCW has found that approximately one third of Wisconsin third party payers require the use of EB or best practices as a condition to reimburse services.
In summary, the NIATx model provided the structure to incorporate recent changes in the MI EBP, into ARCW's current clinical practices. This provided an opportunity for the agency to improve treatment services for clients, and to increase third party revenue.
Archive: Spotlight On...
2014
2013
2012
2010
2009
Our current participants include:
Adams County Health & Human Services Department
AIDS Resource Center of Wisconsin AODA Treatment Program
Alarus Healthcare, LLC
AMRI Counseling
Arbor Place, Inc
ARC Community Services-Madison
Beacon House
Behavioral Health Services of Racine County
Benedict Center: Milwaukee
BridgeHealth Clinics & Research Centers, Inc
Brown County Human Services Department
Center for Quality Community Life
Center Point Counseling
Connections Counseling
Coulee Youth Center
Dane County Department of Human Services
Family Services of Northeast Wisconsin Inc.
Forward Choices
Genesis Behavioral Services Inc.
Hiawatha Valley Mental Health Center
Holy Family Memorial Behavioral Health
Jackie Nitschke Center
Jefferson County Human Services
Journey Mental Health Center
La Casa de Esperanza
La Crosse County Human Services
LSSWomen's Way
Mayo Clinic Health System La Crosse
Meta House
New Horizon's North
North Central Health Care
Oakwood Clinical Associates
Omni Enrichment
Open Door Center for Change
Polk County HHS
Rock County Human Services Department
RockValleyCommunity Programs
Shorehaven Behavioral Health, Inc.
St. Croix County Health & Human Services
Tri-County Women's Outreach
Waukesha County Health and Human Services
West Central Wisconsin Behavioral Health Clinic
William S. Middleton Veteran's Hospital
Wood County Human Services Department
To promote sustainability, the staff members at participating Treatment Agencies are trained in the principles of the NIATx Improvement Process through an annual face-to-face learning session. They also participate in monthly group provider teleconference calls to support and promote continued rapid cycling quality improvement projects and network with other providers. 1:1 coaching calls are an additional option in an effort to support the quality improvement practices providers are implementing.
For more information, please visit:
Public site primary links (section navigation)
Sidebar content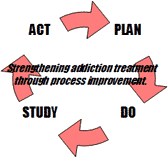 Contact Us
Deanne Boss, M.S.
STAR-QI Program Director
UW Department of Family Medicine
1100 Delaplaine Court
Madison, WI 53715
608-263-0304
Providers Map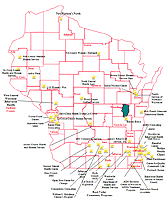 In The News