Strengthening Treatment Access and Retention-Quality Improvement (STAR-QI)
(Formerly known as STAR-SI)
Key DFM Personnel
Richard L. Brown, MD, MPH - Principal Investigator
Deanne Boss, MS - STAR-QI Program Director
Collaborators
Joyce Allen, Director, WI Bureau of Mental Health and Substance Abuse Services
Michael Quirke, Program Evaluation Coordinator, Bureau of Mental Health and Substance Abuse Services
Funding
Wisconsin Department of Health Services (DHS)
Program Summary
The Wisconsin STAR-QI Program began in October 2006 as a three-year grant from the U.S. Substance Abuse and Mental Health Services Administration (SAMHSA). The purpose of the grant was to use the Network for the Improvement of Addiction Treatment (NIATx) Quality Improvement Model to improve organizational processes at the State and treatment agency level to impact client access to and retention in outpatient substance abuse treatment services. The STAR-QI Program has been so successful, that DHS has continued to fund it through September 2016.
The STAR-QI quality improvement projects aim to:
Reduce the wait time between a client's first request for service and the first treatment session
Reduce client no-shows
Increase addiction treatment centers' admissions
Increase the treatment continuation rate between the first and fourth treatment sessions
Collecting and reporting data is central to the NIATx model. Provider agencies collect baseline data before beginning a change. During the rapid-cycle quality improvement cycle, the agency continues to collect data, which they study to determine how the change impacted services. Change Teams at the provider agencies use their data to decide whether to adopt, adapt, or abandon their change project and to decide which quality improvement projects to pursue next.
Spread and sustainability are important concepts in the NIATx model. Initially ten Provider Organizations were participants in the first grant year. As we begin our eleventh year, 42 agencies are currently participating and outreach efforts are continuing.
In the Spotlight: Shorehaven Behavioral Health
Lynn Godec, MSW, is the Executive Director for Shorehaven Behavioral Health, Inc. Lynn is also the Executive Sponsor and Change Team Leader for the Strengthening Treatment Access and Retention-Quality Improvement (STAR-QI) Program. From October, 2013, through September, 2014, Lynn and her change team chose the Admissions Focus Area so that they might concentrate their efforts on Excellence in Customer Service in their clinic, which is located in Brown Deer, Wisconsin, and provides behavioral health services to Milwaukee County residents.
The Admissions goal that Lynn and her change team chose was that Excellence in Customer Service should be the standard of all of their interactions from the first call fielded by the Clinic Support Staff (CSS) to every future interaction with Shorehaven staff. Under Lynn's leadership, the Change Team experimented with a number of customer-focused process improvements utilizing the Network for the Improvement of Addiction Treatment (NIATx) quality improvement model, and the involvement and support of the Wisconsin STAR-QI program.
The first process improvement the Change Team implemented was in response to many clients who utilize public transportation during frigid January Wisconsin winters. The Change Team thought offering a hot beverage and snack upon arrival would be a nice way to welcome clients to the agency. CSS stocked small water bottles, hot chocolate, coffee and snack options, and noted client's responses via a simple tally sheet. The offering of a snack became an immediate way to build a caring relationship. Based on patient feedback that snacks were more desired than beverages, and a therapist suggestion to offer fruit as a snack option, the change team continued to improve their welcoming process. Shorehaven has since adopted this Excellence in Customer Service change based on client comments such as, "Thanks so much, I missed breakfast this morning" and "It has been a long time since I had peanut butter cookies."
A second Excellence in Customer Service change project involved a responsiveness of the agency to the implementation of the Affordable Care Act. Collecting copays/deductibles was difficult with 80% of clients having Medicaid as their funding and many times struggled to pay copays. In addition, therapists and staff also felt uncomfortable asking clients to pay their bills. The change team developed a script that the Clinic Support Services staff would follow with additional steps taken by the billing department to update client files with appropriate financial information. This change has resulted in almost a 100% improvement in the collection of co-pays, co-insurance, deductibles, and private pays.
The third Excellence in Customer Service change project was implemented in response to increasing numbers of clients utilizing electronic devices to communicate. Therefore, Shorehaven leadership wanted to experiment with automating text and e-mail appointment reminders through their Electronic Medical Records (EMR) system. Through a series of rapid cycle process improvements such as rewriting consent forms and having clients update their consent forms, and data entry into the EMR, Shorehaven reduced appointment cancellations by an average of 6% in six short months. The Change Team is continuing to improve this process by addressing with clients those e-mails that bounce back to the system.
In summary, through a commitment to Excellence in Customer Service, Lynn and her change team have improved the Admissions experience for customers by creating a welcoming environment, and adapting appointment reminders to reflect current customer choices. They have also improved their business case so that they can continue to be financially viable in the changing behavioral health delivery system and keep their doors open to provide services to clients who need services.
Archive: Spotlight On...
2015
2014
2013
2012
2010
2009
Our current participants include:
Adams County Health & Human Services Department
AIDS Resource Center of Wisconsin AODA Treatment Program
AMRI Counseling
Arbor Place, Inc
ARC Community Services-Madison
Behavioral Health Services of Racine County
Brown County Human Services Department
Center for Quality Community Life
Center Point Counseling
Compass Counseling-Wausau
Connections Counseling
Coulee Council on Addictions
Dane County Department of Human Services
Driftless Recovery Services
Family Services of Northeast Wisconsin Inc.
Genesis Behavioral Services Inc.
Green Lake County Department of Health and Human Services
Hiawatha Valley Mental Health Center
Holy Family Memorial Behavioral Health
Iron County Department of Human Services
Jackie Nitschke Center
Jefferson County Human Services
Journey Mental Health Center
La Crosse County Human Services
LSSWomen's Way
Mayo Clinic Health System La Crosse
Meta House
New Horizon's North
North Central Health Care
Oakwood Clinical Associates
Omni Enrichment
Open Door Center for Change
Polk County HHS
RockValleyCommunity Programs
Rusk County Health and Human Services
Shorehaven Behavioral Health, Inc.
Taylor County Human Services Department
Tri-County Women's Outreach
Waukesha Community Health Center
Waukesha County Health and Human Services
West Central Wisconsin Behavioral Health Clinic
William S. Middleton Veteran's Hospital
Wood County Human Services Department
To promote sustainability, the staff members at participating Treatment Agencies are trained in the principles of the NIATx Improvement Process through an annual face-to-face learning session. They also participate in monthly group provider teleconference calls to support and promote continued rapid cycling quality improvement projects and network with other providers. 1:1 coaching calls are an additional option in an effort to support the quality improvement practices providers are implementing.
For more information, please visit:
Public site primary links (section navigation)
Sidebar content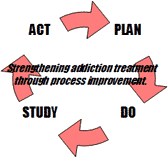 Contact Us
Deanne Boss, M.S.
STAR-QI Program Director
UW Department of Family Medicine
1100 Delaplaine Court
Madison, WI 53715
608-263-0304
Providers Map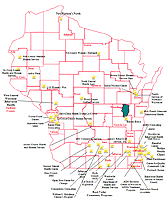 In The News