Strengthening Treatment Access and Retention-Quality Improvement (STAR-QI)
(Formerly known as STAR-SI)
Key DFM Personnel
Richard L. Brown, MD, MPH - Principal Investigator
Deanne Boss, MS - STAR-QI Program Director
Collaborators
Joyce Allen, Director, WI Bureau of Mental Health and Substance Abuse Services
Michael Quirke, Program Evaluation Coordinator, Bureau of Mental Health and Substance Abuse Services
Funding
Wisconsin Department of Health Services (DHS)
Program Summary
The Wisconsin STAR-QI Program began in October 2006 as a three-year grant from the U.S. Substance Abuse and Mental Health Services Administration (SAMHSA). The purpose of the grant was to use the Network for the Improvement of Addiction Treatment (NIATx) Quality Improvement Model to improve organizational processes at the State and treatment agency level to impact client access to and retention in outpatient substance abuse treatment services. The STAR-QI Program has been so successful, that DHS has continued to fund it through September 2013.
The STAR-QI quality improvement projects aim to:
Reduce the wait time between a client's first request for service and the first treatment session
Reduce client no-shows
Increase addiction treatment centers' admissions
Increase the treatment continuation rate between the first and fourth treatment sessions
Collecting and reporting data is central to the NIATx model. Provider agencies collect baseline data before beginning a change. During the rapid-cycle quality improvement cycle, the agency continues to collect data, which they study to determine how the change impacted services. Change Teams at the provider agencies use their data to decide whether to adopt, adapt, or abandon their change project and to decide which quality improvement projects to pursue next.
Spread and sustainability are important concepts in the NIATx model. Initially ten Provider Organizations were participants in the first grant year. As we begin our seventh year, 50+ agencies are currently participating and outreach efforts are continuing.
In the Spotlight: Waukesha County Health and Human Services
Each year at the STAR-QI Annual Learning Session, Wisconsin Behavioral Health Treatment Providers are asked which Process Improvement Focus Areas they would like to work on for the next Program Year. Last year, Waukesha County Health and Human Services (HHS), along with a dozen of their STAR-QI peers, chose to work on Outcomes-Informed Care. The goal of the Outcomes-Informed Care group was to utilize the NIATx Process Improvement model, through the support of the STAR-QI Program, to improve client clinical outcomes by 5 percentage points. This goal would be accomplished by implementing an electronic clinical outcomes tracking, feedback, and benchmarking approach for at least one Counselor/Therapist and at least thirty clients. Waukesha County HHS's Process Improvement Change Project is under the leadership of John Kettler, MS, CSAC, LPC, ICS, Senior Substance Abuse Counselor. The change team has progressed well with their project and has used information learned in the project, to improve services. The change team members did this by being actively engaged in formulating rapid cycle change ideas, implementing the changes, and then using data from outcome measures and client surveys to inform decision making for subsequent rapid improvement cycles.
Regarding the outcome measure, first a script was developed to introduce the outcome form to clients. The script served an important function of providing a consistent process across clinicians. The agency asked clients, involved in outpatient groups, to fill out the outcome form at admission and then every 30 days thereafter. Clients completed the form during the last session of the month, and by the primary counselor of the patient, to ensure that all patients would be surveyed only once. Spreadsheets were also created to organize the data that was being collected.
The outcome survey form contained questions covering eight of the suggested dimensions in state rule DHS 75.03 (20) including substance use, support system contact, employment status, health insurance, living situation, recovery motivation, family relationships and contact with the criminal justice system. By implementing the outcomes measures and the client surveys, it was expected that services could be improved and tailored to patient needs, while patients were still actively involved in treatment. The change team was able to draw the following conclusions from the preliminary data. There was a low percentage of patients that reported having insurance, a high percentage of relapses involving alcohol, and a high percentage of persons reporting good contact w/ support system.
Based on this data, the Change Team is addressing support system discrepancies. For example, clients reported good progress on the outcomes form but not during groups. Therefore, the team's next rapid cycle will focus on relapse prevention training during groups and will look into health insurance marketplace information to inform clients about how to get information and sign up for insurance.
In summary, the team is learning how valuable in-treatment feedback from the client is, by being responsive to the client's needs in treatment. Future data analysis will evaluate how this responsiveness impacts clients' treatment continuation and completion.
Archive: Spotlight On...
2014
2013
2012
2010
2009
Our current participants include:
Adams County Health & Human Services Department
AIDS Resource Center of Wisconsin AODA Treatment Program
Alarus Healthcare, LLC
AMRI Counseling
Arbor Place, Inc
ARC Community Services-Madison
Beacon House
Behavioral Health Services of Racine County
Benedict Center: Milwaukee
BridgeHealth Clinics & Research Centers, Inc
Brown County Human Services Department
Center for Quality Community Life
Center Point Counseling
Connections Counseling
Coulee Youth Center
Dane County Department of Human Services
Family Services of Northeast Wisconsin Inc.
Forward Choices
Genesis Behavioral Services Inc.
Hiawatha Valley Mental Health Center
Holy Family Memorial Behavioral Health
Jackie Nitschke Center
Jefferson County Human Services
Journey Mental Health Center
La Casa de Esperanza
La Crosse County Human Services
LSSWomen's Way
Mayo Clinic Health System La Crosse
Meta House
New Horizon's North
North Central Health Care
Oakwood Clinical Associates
Omni Enrichment
Open Door Center for Change
Polk County HHS
Rock County Human Services Department
RockValleyCommunity Programs
Shorehaven Behavioral Health, Inc.
St. Croix County Health & Human Services
Tri-County Women's Outreach
Waukesha County Health and Human Services
West Central Wisconsin Behavioral Health Clinic
William S. Middleton Veteran's Hospital
Wood County Human Services Department
To promote sustainability, the staff members at participating Treatment Agencies are trained in the principles of the NIATx Improvement Process through an annual face-to-face learning session. They also participate in monthly group provider teleconference calls to support and promote continued rapid cycling quality improvement projects and network with other providers. 1:1 coaching calls are an additional option in an effort to support the quality improvement practices providers are implementing.
For more information, please visit:
Public site primary links (section navigation)
Sidebar content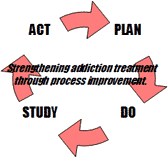 Contact Us
Deanne Boss, M.S.
STAR-QI Program Director
UW Department of Family Medicine
1100 Delaplaine Court
Madison, WI 53715
608-263-0304
Providers Map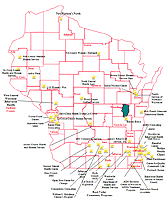 In The News