San Lucas Tolimán (SLT) is a town of 17,000 people in southern Guatemala. The population is mostly indigenous highland Maya with an average income of less than $1000 per year or about $3 per day. Most families are engaged in agricultural labor on nearby coffee plantations for their income. Health problems reflect the poverty of the community with high rates of respiratory disease, skin problems, malnutrition, and work-related injuries. Since 1962, the SLT Mission has sought to improve the lives of the local people by addressing poverty and its causes. A major focus of their efforts has been through health promotion. Current efforts consist of local clinic with a single physician and a village health promoter program. More specialized health concerns are addressed through clinics offered by visiting health volunteers.
In recent years, UW students and faculty have taken on a growing role in the care of this community. Kevin Wyne, (UW-Madison Physician Assistant [PA] Program), has been central to these efforts. Since 2014, Kevin has traveled frequently to SLT with UW students to conduct outreach clinics in the area. Working closely with Dr. Jim Svenson (UW Emergency Medicine), Kevin has organized an interdisciplinary team of students and faculty from UW pharmacy, physical therapy, and PA programs to expand the services provided by UW teams. Through discussions with the local health provider, Rafael Tun, their team has worked to identify problems and developed initiatives to assist in the development of long-term sustainable care to the people of San Lucas.
These efforts include assisting colleagues from Stanford University to develop an electronic medical record to better coordinate the varied volunteer groups who provide care in SLT, developing a mobile app to monitor blood glucose levels in community members, and creating an interdisciplinary preparatory course to better prepare students and faculty for their time in Guatemala. Future initiatives include creating a common pharmacy of medications used by visiting providers, providing training opportunities for the health promoter program, and including other health professions in the visiting teams from UW. A central tenet of their approach is to truly partner with the local people to develop locally-directed, sustainable practices that will benefit the community's health over the long term.
Kevin has worked as a UW faculty member since 2012 and as an emergency medicine PA since 2006. His current clinical position is as a PA with Madison Emergency Physicians where he directs the Emergency Medicine Advance Provider (EMAP) Fellowship. Kevin was recognized as a "Rising Star" by the Physician Assistant Education Association (PAEA) in 2017 for his teaching innovations and service. In his free time, Kevin enjoys being with his wife Kirsten and their daughter Helen. They love to travel, wander around used bookstores, and grow tomatoes each summer in their community garden plot.
Published: January 2019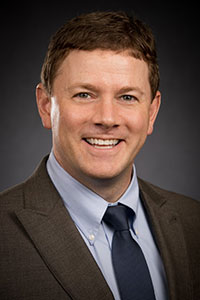 Kevin Wyne, PA-C
Want to know more?
For more information about Global Health contact:
Ann Evensen, MD, FAAFP
DFMCH Director of Global Health
ann.evensen@fammed.wisc.edu