One Health is the idea that the health of animals, humans, plants and the environment that we share is inextricably connected.  I have been partnering with Emergency Management and Research Institute (EMRI) Green since 2011 on the human side – helping them to develop Basic and Advanced Life Support in Obstetrics (BLSO, ALSO®) programs for their physicians and emergency medical technicians. EMRI Green is the world's largest emergency medical system with thousands of ambulances and several 911-style call centers to triage emergencies in order to serve more than 800 million people. Their services are free to clients, paid for by Indian State governments.
A few years ago, EMRI Green leaders asked me to establish a relationship with veterinarians at the UW (we are one of the few schools in the US with both medical and veterinary medical schools).  This request was made because EMRI Green was starting mobile veterinary clinics to serve a vast number of animals in India, primarily livestock on small-scale farms.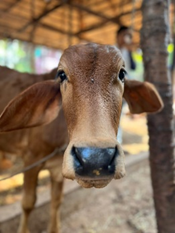 After a pandemic delay I was able to work with UW veterinarians to create TEACH (Training in Emergency Animal Care and Handling) and then travel with them to Hyderabad where the course was piloted. TEACH is a 3 ½ day train-the-trainer program consisting of didactic, laboratory, and on-farm training. Topics include fluid therapy, blood transfusions, calving and calf management, dystocia, metritis, trauma, zoonotic disease, and physical examination. More bi-directional teaching and learning activities are in the works!
Not only did I learn a lot about veterinary medicine, this experience helped me "see" One Health first-hand (antimicrobial overuse, environmental and social determinants of health that perpetuate poverty and disease, and other insights).  It also was proof that listening to your global partner's requests is crucial rather than staying comfortably in your own 'lane' with your own priorities.
Published: February 2023


Ann Evensen, MD, FAAFP
Want to know more?
For more information about Global Health contact:
Ann Evensen, MD, FAAFP
DFMCH Director of Global Health
ann.evensen@fammed.wisc.edu