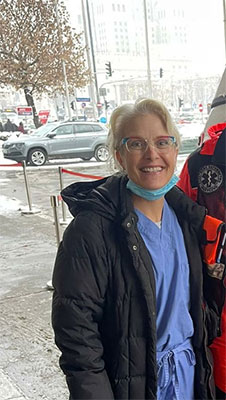 Dr. Danalyn Rayner traveled to Poland with International Medical Relief in December 2022 to serve patients who crossed the border from Ukraine and were living in densely packed shelters.  As the only physician seeing adult patients in a small and noisy clinic that lacked privacy, she was always busy. High blood pressures were common and access to medications limited. She worked with a translator who was living in a shelter herself after leaving eastern Ukraine.
The hopelessness was palpable with concerns that the war could extend indefinitely, but there were bright spots.  Rayner found that within days of arrival, the Ukrainians were given a Polish social security number which gave them access to the national health care system, allowed them to get a job and allowed the children to go to school.  She also observed particularly difficult challenges for the Roma people who suffered from marginalization, discrimination, and poor literacy rates in girls and women due to a cultural preference to not send female children to school.
Published: April 2023


Danalyn Rayner, MD
Want to know more?
For more information about Global Health contact:
Ann Evensen, MD, FAAFP
DFMCH Director of Global Health
ann.evensen@fammed.wisc.edu