(Formerly known as STAR-SI)
Key DFM Personnel
Aleksandra Zgierska, MD, PhD, DFASAM, DABAM, DABFM – Principal Investigator
Deanne Boss, MS – STAR-QI Program Director
Collaborators
Wisconsin Department of Health Services
Joyce Allen, Director, Bureau of Prevention Treatment and Recovery
Funding
Wisconsin Department of Health Services (DHS)
Program Summary
The Wisconsin STAR-QI Program began in October 2006 as a three-year grant from the U.S. Substance Abuse and Mental Health Services Administration (SAMHSA). The purpose of the grant was to use the Network for the Improvement of Addiction Treatment (NIATx) Quality Improvement Model to improve organizational processes at the state and treatment agency level to impact client access to and retention in outpatient substance abuse treatment services.
The STAR-QI quality improvement projects aim to:
Reduce the wait time between a client's first request for service and the first treatment session
Reduce client no-shows
Increase addiction treatment centers' admissions
Increase the treatment continuation rate between the first and fourth treatment sessions
Collecting and reporting data is central to the NIATx model. Provider agencies collect baseline data before beginning a change. During the rapid-cycle quality improvement cycle, the agency continues to collect data, which they study to determine how the change impacted services. Change Teams at the provider agencies use their data to decide whether to adopt, adapt, or abandon their change project and to decide which quality improvement projects to pursue next.
Spread and sustainability are important concepts in the NIATx model. Initially ten Provider Organizations were participants in the first grant year. As we begin our twelfth year, 35 agencies are currently participating and outreach efforts are continuing.
In the Spotlight: Shorehaven Behavioral Health 

Lynn Godec, MSW, is the Executive Director for Shorehaven Behavioral Health, Inc, located in Brown Deer, Wisconsin.  Lynn is also the Executive Sponsor and Change Team Leader for the Strengthening Treatment Access and Retention-Quality Improvement (STAR-QI) Program.  From October 2014 through September 2015, Lynn and her change team, namely Zach, Hermie and Mark, chose the Healthcare Reform Initiatives Focus Area.  Their goal was to address access to treatment, for the Milwaukee County residents to whom they provide Behavioral Health Services.

One of the largest, current barriers in the Behavioral Health industry in Wisconsin is having enough clinicians to service the individual once they seek treatment, especially those on Badgercare funding.  From a business/human resource perspective, the 3-9 month credentialing process along with onerous prior authorization paperwork requirements, make hiring, training, monitoring, and retaining employees one of Shorehaven's largest business expenses.  The Change Team's two-fold goal was to create efficiencies in the credentialing and prior authorization processes by utilizing technology to positively impact the amount of lost time both administratively and clinically.  Quicker credentialing timeframes, an increase in clinical time available due to a reduction in paperwork, speedier client transitions into care, and more opportunities for newly hired clinicians to start providing services, were all ways in which Shorehaven could increase access, revenue, and maintain positive relationships with their referral sources.

The Shorehaven Change Team tackled their goal based on the premise that all of the payers request similar information, but do so in different ways.  So they created a single document that housed all of the clinician's demographic, educational and work history in order to input it into the various payer credentialing applications.  They then edited the credentialing applications so that the information could be merged quickly and consistently.

In order to understand their needs and whether a technological solution was possible, they then elicited input from their digital native and millennial staff.  In turn, they had to ask for input from contacts outside the Behavior Health field, to work through some bugs in the process.  Under Lynn's leadership, the change team did an excellent job of applying the Network for the Improvement of Addiction Treatment (NIATx) Model, which addresses improvement in processes by breaking large projects down into manageable tasks to pilot for improvement.  Starting with baseline data is a key important first step in improving any process, as an agency has to know where they are starting from, in order to be able to answer the question, "How will I know the change is an improvement?"  The Shorehaven Change Team learned that the current credentialing and prior authorization process was taking about 10 hours of administrative time and 10 hours for the clinicians to manually fill out the applications.  Their goal was to reduce this time by at least 50%.

Through many rapid cycle improvements and upon completion of the project, only one hour of clinical time was needed to complete the process compared to the 10 hours before this process.  Additionally, the administrative time went down from 10 hours to 3 hours of time.  This reflects a 90% and 70% reduction, respectively.  This well exceeded their goal of a 50% reduction.

Shorehaven is not aware of any other business in the Behavioral Health field to use this process.  They continue to tweak the documents to create greater efficiencies in their process.  Additionally, they are also evaluating if they might have greater capacity for the use of this type of process for the areas of the Clinician Resume (which is submitted with all applications for credentialing) and the Clinician Privileges to Treat document (DHS 35).
Archive: Spotlight On…
2015
2014
2013
2012
2010
2009
Our current participants include:
Adams County Health & Human Services Department
Adult Care Consultants
AIDS Resource Center of Wisconsin AODA Treatment Program
AMRI Counseling
Arbor Place, Inc
ARC Community Services-Madison
Ascension/All Saints
Behavioral Health Services of Racine County
Brown County Human Services Department
Connections Counseling
Express Yourself Milwaukee
Family Services of Northeast Wisconsin Inc.
Foundations Health & Wholeness
Holy Family Memorial Behavioral Health
IRIS Healthcare
Jackie Nitschke Center
Jefferson County Human Services
La Causa Inc
Lad Lake
LSSWomen's Way
Mayo Clinic Health System La Crosse
Meriter-Newstart
Meta House
Milwaukee County DHHS: Division of Youth and Family Services
Mindstar Counseling
Oakwood Clinical Associates
Pathways to a Better Life
Rock Valley Community Programs
SALS Recovery Center
Shorehaven Behavioral Health, Inc.
Waukesha County Health and Human Services
West Central Wisconsin Behavioral Health Clinic
Wood County Human Services Department
To promote sustainability, the staff members at participating Treatment Agencies are trained in the principles of the NIATx Improvement Process through an annual face-to-face learning session. They also participate in monthly group provider teleconference calls to support and promote continued rapid cycling quality improvement projects and network with other providers. 1:1 coaching calls are an additional option in an effort to support the quality improvement practices providers are implementing.
For more information, please visit:
Contact Us
Deanne Boss, M.S.
STAR-QI Program Director
UW Department of Family Medicine
1100 Delaplaine Court
Madison, WI 53715
608-263-0304
Providers Map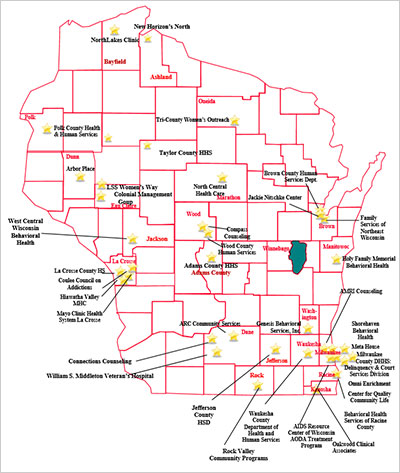 View Larger Provider Map » (PDF)
In The News