Match Day 2017 was a great day for family medicine.
On March 17, 2017, 33 fourth-year UW School of Medicine and Public Health (SMPH) students—decked out with their classmates in green "St. Matrick's Day" t-shirts—matched into family medicine residency programs across the nation.
They represented 19.5 percent of the graduating SMPH class, demonstrating students' continued interest in family medicine. (In 2016, 25 SMPH students, or 15 percent of the class, matched into family medicine.)
What's more, the percent of SMPH students entering family medicine is more than double the 8.8 percent of students nationwide who chose the specialty (source: American Academy of Family Physicians).
Of those 33 students, 14 are entering family medicine residency programs in Wisconsin. Nine SMPH students are entering a residency program that's sponsored by or partnered with the UW Department of Family Medicine and Community Health (DFMCH).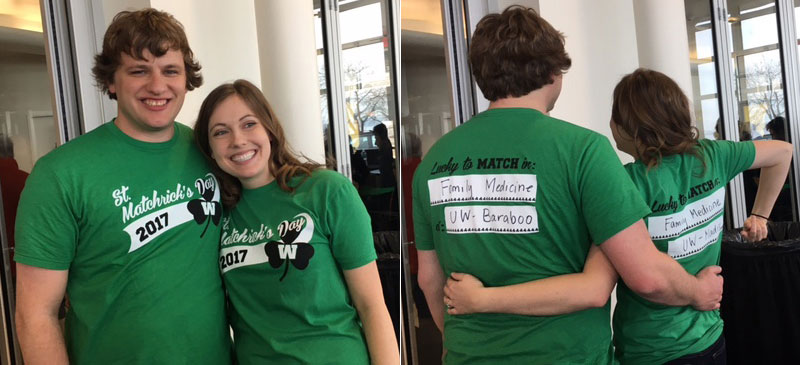 Above: SMPH classmates Zachary Droeszler, a Wisconsin Academy for Rural Medicine (WARM) student who matched in the DFMCH's Baraboo RTT, and Kelsey Schmidt, who matched at the DFMCH's Madison residency program.
"I chose family medicine because of the possibility to care for people of all ages. It is an amazing opportunity to be able to have such a wide scope of practice. As part of the WARM program, rural medicine has always been a huge focus of mine, and I felt that the Baraboo RTT would provide the best training in order to do that. I spent a month there on rotation in the beginning of 4th year and absolutely loved the people there."
—Zachary Droeszler
"I chose family medicine as a specialty because at its core it embodies what I think patients need most from a physician—someone who cares for the entire family and all aspects of the patient's wellbeing. I am so excited to have a patient panel and begin caring for families that I will have continuity with over the next three years. Given the vast interests of the department, I also am excited to continue my work in quality improvement, patient safety, and community engagement."  
—Kelsey Schmidt
Expanded Madison Residency, Academic Partner Programs
All of the DFMCH residency programs also enjoyed a successful match. The incoming statewide class consists of 52 residents in DFMCH-sponsored or academic partner programs.
It includes two additional Madison residents who will be part of a new rural health equity track at the UW Health Belleville Clinic. Residents on this track will partner with communities, public-health researchers, and multidisciplinary teams to better understand and eliminate rural health disparities.
The new class also includes 10 residents at two Aurora Health Care programs that are now—or soon will be—DFMCH academic partner programs.
The Aurora Lakeland Rural Training Track Family Medicine Residency is a brand-new program in which residents spend their first year in Milwaukee on inpatient rotations with Aurora St. Luke's Family Medicine residents, and their second and third years at the Aurora Lakeland Medical Center in Elkhorn, Wisconsin. This program will welcome four residents.
The Waukesha Family Medicine Residency Program will transition from Medical College of Wisconsin sponsorship to Aurora Health Care sponsorship in July. This program will welcome six residents.
Thanks to everyone who worked to make this year's match a success for family medicine!
Published: April 2017