Quality of Life
"Welcome Home to Wausau" is more than a greeting – it's our community's slogan. Wausau's quality of life ranks among the best and safest in the nation for communities of its size. A typical commute to work is under 10 minutes, and parking is never an issue. Average rental rates/month for a one bedroom in Wausau is $563, and median home costs in Wausau are $99,500. Marathon County's 134,000 residents find all the comforts of home here.
Recreation
Extensive sports and recreational opportunities are available year-round. Riverfront walking trails, kayaking, boating, fishing, soccer and biking are popular in the summer. People For bikes rated Wausau #2 in the country in 2018 with our city bike trails, mountain bike trails, and Sylvan Hills Downhill Bike Park located right within the city limits.
Located just 10 minutes from the hospital, Granite Peak Ski Area offers downhill skiing, snowboarding, and cross-country ski trails. At the top of the ski hill is Rib Mountain State Park with walking trails and beautiful views of the city.
Wausau has a vibrant downtown where you can attend free weekly outdoor concerts, farmers' markets, and art festivals.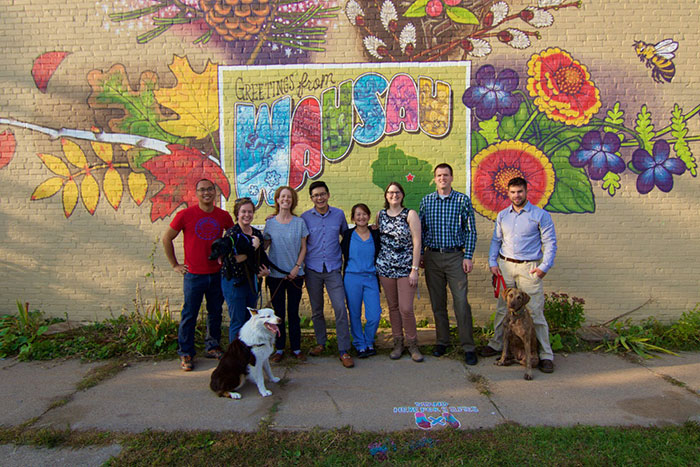 Foodies
You will find an abundance of food options for your tasting in Wausau and the surrounding areas. From Pizza on the Farm to microbreweries to Downtown Grocery's organic food store, you can find it all here. There are several farmer's markets throughout the city, including a location in the Aspirus Wausau Hospital parking lot!
Culture
Wausau offers cultural events through such organizations as the Performing Arts Foundation, the Wausau Conservatory of Music, community theater groups, and the Marathon County Historical Society. Each year the Hmong American Center, Inc., hosts the Hmong Wausau Festival with sporting events, music and art, entertainment and food.  The city also has museums, art galleries and display gardens.
Education
Educational opportunities abound in Wausau, with University of Wisconsin campuses located in town and in nearby Stevens Point. The Northcentral Technical College network is anchored here, as well. Wausau's public school system ranks among the finest in the state.