The city of Baraboo, the largest city, in and the county seat of, Sauk County, is located 40 miles northwest of Madison in an area of south central Wisconsin well known for its natural beauty.  Baraboo is home to approximately 12,000 people and is situated along the Baraboo River between the north and south areas of the Baraboo Range
Recreation and Culture
Devil's Lake and Mirror Lake State Parks offer hiking, swimming, canoeing, fishing, and rock climbing.  There are also a number of premiere golf courses to enjoy during the summer and skiing, both downhill and cross country, in the winter.  Within the city itself, Baraboo is home to a skateboard park, swimming pools, tennis courts, baseball and softball diamonds, soccer fields, and the Oschner Park and Zoo.
The International Crane Foundation, an organization dedicated to the study and conservation of cranes and the wetland and grassland communities they depend on, can also be found in Baraboo.
Baraboo is also home to the Circus World Museum, located on the original site of the Ringling Brothers Circus winter quarters.  The museum features historic structures from the Ringling Brothers Circus, historic circus wagons, exciting exhibits, animal encounters, and live circus performances.  The historic Al. Ringling Theater is also located in Baraboo and presents live performances by the Baraboo Theater guild and shows new film releases.  Other opportunities, such as the Leopold Center, the Mid-Continent Railway Museum, Ho-Chunk Casino, and Wisconsin Dells are all just a short drive from Baraboo.
Shopping and Dining
Baraboo's downtown district, also known as "the Square," is made up of numerous historic buildings that house a diverse mix of art galleries, restaurants, specialty stores, and gift shops. Beyond the downtown area are supermarkets, department stores, discount stores, and more. Baraboo offers many dining options, from family diners to fine dining and ethnic specialties.
Education
The Baraboo school district includes 5 elementary schools, a middle school and a high school.  There are also three parochial schools in the area. The University of Wisconsin – Baraboo/Sauk County campus offers higher education opportunities.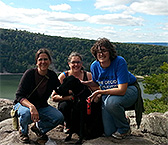 Residents Elizabeth Matera, Rebecca Pfaff and Rachel Hartline hike the Devil's Lake bluffs.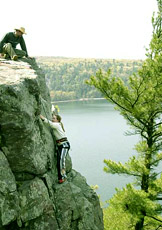 Rock climbing at Devil's Lake State Park in Baraboo, WI.
More Info