Application Process is OPEN at this time
Application process for the July 25 – 27, 2019 conference
The Department of Family Medicine and Community Health has $600 scholarships available to attend the 2019 AAFP National Conference in Kansas City, MO. The scholarships are available on a first come basis.
To apply everyone must complete and submit the forms below:
AAFP Scholarship Application Form (submit on-line and send a copy to Joyce Jeardeau)
Submit all forms to: joyce.jeardeau@fammed.wisc.edu or fax to 608-265-1103 or drop off at the Clinical Science Center, L5-1/07M.
Post-conference requirements:
A paragraph highlighting your conference experience and the impact on your education and specialty selection.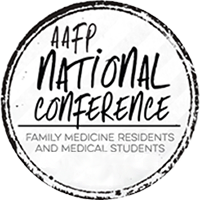 Contact Us
Joyce Jeardeau, ACUME
OMSE Medical Student Programs Coordinator
Email: Contact
(608) 263-1334