Watch for an Email with Registration Information
The Family Medicine Interest Group, in coordination with the Department of Family Medicine and Community Health, is excited to be able to offer a BLSO certification to students on Saturday, October 22, 2022.

Basic Life Support in Obstetrics (BLSO) is a curriculum designed to train students and first responders about the basics of managing normal deliveries as well as obstetric emergencies.
Details
Saturday, October 22, 2022 – 8:00 am to 5:00 pm. Registration will begin at 7:30 am in the HSLC atrium. A lite breakfast and lunch will be provided.
Prior to the class you are required to complete the pre-course quiz online. You will need to print a copy of the results and bring it with you to registration on October 22
Cost: The department has funds for students to participate free of cost. Registration is agreement of attendance.
If you have any questions, please contact: Nicole.Watson@fammed.wisc.edu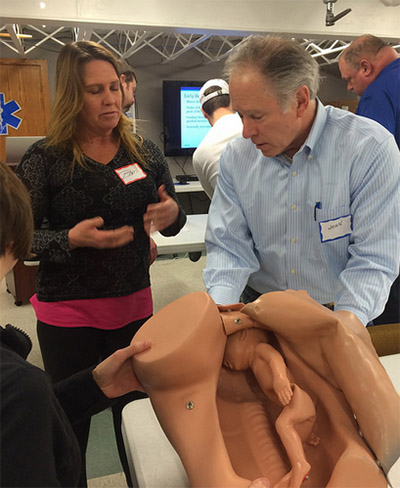 John Yost, MD, demonstrates delivery techniques.
Related Article
DFM Hosts First BLSO Course for Medical Students
Contact Us
Nicole Watson
OMSE Medical Student Programs Coordinator
Email: Contact
(608) 263-1334