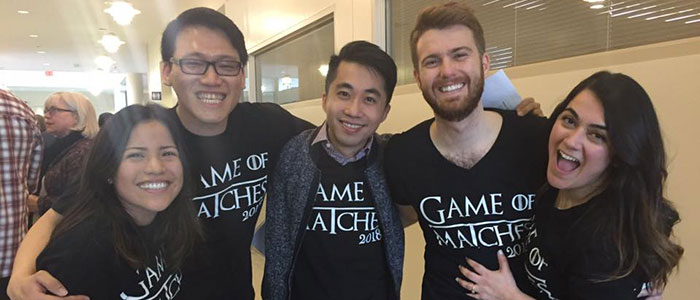 Welcome!  If you are considering Family Medicine as your specialty match, then you are in luck. What follows is a "one stop shop" of resources and information to help guide you to a successful match into Family Medicine. Consider this to be your "toolbox" – always ready to help out when you have a question or just need a suggestion on how to maximize your experience in Family Medicine here at UWSMPH.
Some people enter medical school quite confident of their professional path. Others are undecided until closer to graduation. But most fall somewhere in between… interested but still open to exploring other possibilities. No matter where you fall on this spectrum, the resources included in this toolbox will provide you with factual information about Family Medicine.
So, let's get started. The resources and links follow a chronological order meant to mirror the three phases of the Forward Curriculum.
Phase 1 is an exciting time of introduction into the culture of medical school as well as a period of rapid growth of your knowledge base and professional skills. At times it feels overwhelming and you may wonder if you should take the time to engage in extra-curricular activities. From a residency application and personal growth perspective, the answer is YES! Applications that show active involvement in the Family Medicine Interest Group (FMIG) and service organizations (DOC, MOM, MEDiC) add considerably to your portfolio.
Start off early with selecting a mentor. The Department of Family Medicine and Community Health has faculty with a broad range of interests who are available to serve in a mentor relationship. Check out the wide range of expertise. The depth of relationship and time spent can range from e-mail correspondence to clinical shadowing in a physician's practice. This is a great way to pursue your passion while establishing a support network within the specialty.
If leadership and advocacy appeal to you, there are several opportunities available through the Department as well as the Wisconsin (WAFP) and American (AAFP) Academies of Family Physicians. Membership is free (if you sign up).
Two not to miss events are the Family Medicine Midwest Conference (Fall) and the National Conference of Family Medicine Residents and Students (late Summer). These are signature events that include hands on workshops, inspirational speakers, and residency recruitment fairs. Under the UWSMPH Absence Policy, time can be reserved to attend each of these meetings. In addition, our Department underwrites the cost of your meeting expenses. It's free!
Make the most of your first summer by engaging in Family Medicine research. Our Summer Student Research and Clinical Assistantship (SSRCA) combines patient and community based research with clinical experience in your faculty's clinic. This eight week program pays a competitive stipend. What could be better than getting paid while you learn?
The Department of Family Medicine and Community Health offers two important electives that can fulfill credit requirements. The Healers Art is a 5 evening course that provides you with a faculty facilitated peer group exploration of the core values of medicine and how you can maintain joy and awe throughout your career. Health Care in Diverse Communities is a perfect way to learn about health disparities and the role of physicians in providing quality and equitable care.
Resources
During Phase 2, you finally get the feeling you are really becoming a physician. Clinical care and patient relationships take front and center. These 12 months will be physically, emotionally, and professionally challenging. Feeling unsure and just a bit overwhelmed? Reach out and touch base with one of our residents through our mentorship program.
The practice of Family Medicine is broad and its content spans most of the other clinical specialties. Study hard, maximize your skill development, and strive to do well in each specialty area. Family Medicine is hosted in the Chronic and Preventive Care block (CPC). Our statewide campus offers excellent preceptors in Family Medicine and it can be enlightening to train in more rural settings.
Phase 2 is not too early to get a preview of the actual application process. The "Match Tips" event can help you navigate the complexities of residency application. This event is held early each fall and an announcement will be sent to the SMPH student body with details.
Resources
It hardly seems possible, but Phase 3 begins sooner than you think – in fact, February of your MS 3 year. One of the goals of Phase 3 is to explore further your interest in Family Medicine and to begin narrowing down possible residency programs.
One of the best words of advice is to connect early in Phase 3 with a Family Medicine application advisor in our Advisorship program. Faculty members with in depth knowledge of Family Medicine residencies are available to assist with every facet, from application and personal statements to mock interviews. Having an advisor helps take some of the mystery and stress out of this important process.
In addition to securing an advisor, reserve time to attend the Family Medicine Midwest and/or the National Conference. Both venues provide opportunities to meet with residents and faculty from programs of your interest in an informal manner. As previously stated, your registration and meeting costs are covered by our Department.
Definitely revisit the very specific "Match Tips" event. This is timed to give you detailed information about a successful Match. The Match Tips event occurs early each fall and an announcement with details will be sent to the SMPH student body.
Multiple questions frequently arise regarding scheduling of electives, away rotations, and required sub-internships during Phase 3. Check out the informative video designed to help answer questions in this regard.
Resources
Internship Preparation Course – this is optional but encouraged and offered as an elective. Contact Nicci Watson (nicole.watson@fammed.wisc.edu) for details.
Acting Ambulatory Internship in Family Medicine
Acting Inpatient Internship in Pediatrics or Internal Medicine
Link to video matching in Family Medicine
As you can see, we have built a "big toolbox" to help you create a smooth and successful pathway to Family Medicine. Do not hesitate to reach out to … with any additional questions.