The UW Department of Family Medicine and Community Health (DFMCH) graduated 44 new family physicians from its sponsored and academic partner residency programs in 2019.
Of them, 28 (64 percent) stayed in Wisconsin, either for direct practice or fellowships.
Twelve (27 percent) entered practice in 12 states from Oregon to Iowa to Maine. One is traveling to New Zealand for a locum tenens position.
Congratulations to all the new grads! Find out below where they're practicing.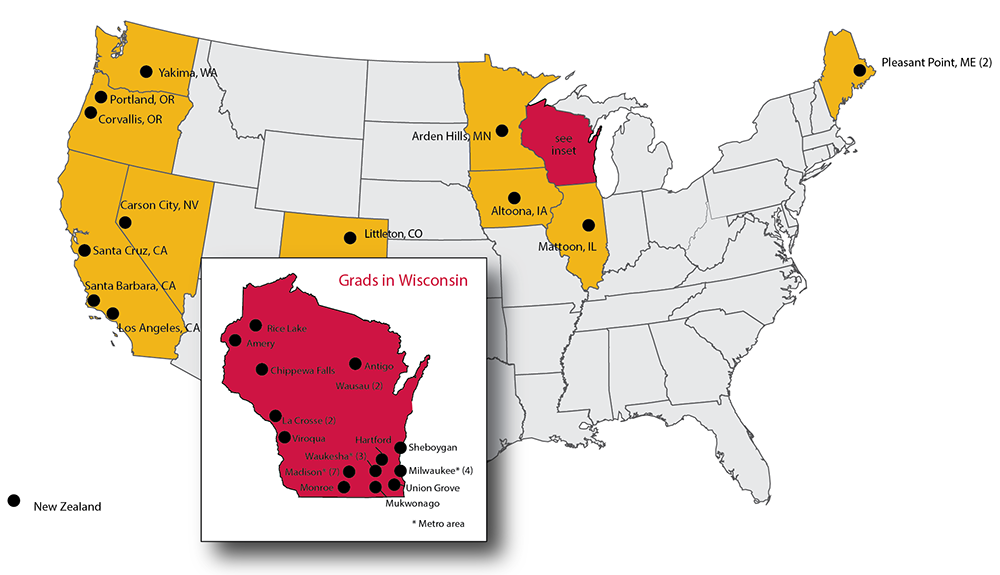 DFMCH-Sponsored Residency Programs
Baraboo Rural Training Track (RTT)
Baraboo graduate Stacy Loerch, MD, was undecided on practice plans at the time of publication, and Kayce Spear, MD, is at South Tabor Family Physicians in Portland, OR.
Three out of four Eau Claire graduates are staying in Wisconsin: Crystal LaLonde, MD, MSc, is at Aspirus Antigo Family Medicine Clinic in Antigo; Steven Long, DO, is at Amery Regional Medical Center in Amery; and Caitlinn Sulimann, MD, is at Eau Claire Medical Clinic in Chippewa Falls.  Matthew Gordon, MD, is at Carson Tahoe Health in Carson City, Nevada.
Seven of the 14 Madison graduates are staying in Wisconsin. Of these, six are entering practice, as follows:
Two at UW Health Deforest-Windsor Clinic in Windsor (Alexander Milsap, MD, and Benjamin Traun, MD)
One at Access Community Health Centers – William T. Evjue Clinic in Madison (Angela Marchant, DO)
One at Access Community Health Centers Joyce & Marshall Erdman Clinic in Madison (Caitlin Regner, MD)
One at Group Health Cooperative-Capitol Clinic in Madison (Kathryn Ledford, DO)
One at Ascension Medical Group – Marsho Clinic in Sheboygan (Xia Vang, MD)
One is entering a DFMCH fellowship:
Primary Care Research (Kellia Hansmann, MD)
Five of the residents leaving Wisconsin are entering practice in Illinois (Emily Metzger,MD, Carle Mattoon on Hurst in Mattoon); Maine (Kartik Sidhar, MD, and Paula Goldman, MD, Pleasant Point Health Care in Pleasant Point); Iowa (Ashley Taliaferro, DO, The Iowa Clinic in Altoona); and Washington (Sheila Kredit, MD, Community Health of Central Washington in Yakima).One is taking a locum tenens position in New Zealand (Petra Kelsey, MD).
One is undecided:
Three of the six Wausau graduates are remaining in Wisconsin:
Two at Aspirus Wausau Family Medicine in Wausau (Amanda Schoenfuss, DO; Elizabeth Schuebel, MD); and
One at Monroe Clinic Hospital in Monroe (Casey Totten, DO)
Two of the residents are leaving Wisconsin for California:
One at Sansum Clinic Healthcare in Santa Barbara (Caitlin Harris Hwang, MD); and
One at Santa Cruz Community Health Centers in Santa Cruz (Dillon Myers, MD)
Tswjfwm Vang, DO, will practice at HealthPartners in Arden Hills, Minnesota.
Academic Partner Residency Programs
All four La Crosse graduates are staying in Wisconsin:
Three at Gunderson Health System (Victoria A. Bodendorfer, MD, and Wesley D. Fox, MD, in La Crosse; Beth V. White, MD, in Viroqua); and
One at Marshfield Clinic in Rice Lake (Katya Alcaraz Voelker, MD)
Five of the 8 Milwaukee graduates are staying in Wisconsin:
Four at Aurora Health Care (Alonzo Jalan, MD, Rinal Patel, MD, and Abdulrehman Siddiqui, MD, in Milwaukee; Kayla Parsons, DO, in West Allis);
One at SSM Health Dean Medical Group Clinic in Stoughton (Christina Quale, MD).
Of the three who are leaving Wisconsin, one is in California (Matthew Gill, DO, at AltaMed Medical Group in Los Angeles), one is in Colorado (Mary St. Clair, DO,
at Pinon Family Practice in Littleton) and one is entering a fellowship in osteopathic neuromusculoskeletal medicine (Joseph Vogelgesang, DO, Good Samaritan Regional Medical Center in Corvallis).
All six Waukesha graduates are staying in Wisconsin:
One at Aurora Health Care (G. Carter Ward, DO, in Hartford);
Three at ProHealth Care, Inc. (Michelle Morgan, MD, and Jennifer Zeman, MD, in Waukesha; and Tyler Narloch, MD, in Mukwonago);
One at Ascension (Laurie Potratz, MD, in Union Grove);
One entered an MPH fellowship at ProHealth Care, Inc. (Heather Koch, MD, in Waukesha)
Congratulations to all the graduates!
Published: October 2019