The Wausau Family Medicine Residency Program is academic partners with the University of Wisconsin School of Medicine and Public Health. The program is sponsored by Wisconsin Northern and Central (WiNC) GME Consortium.
Located in the heart of Wisconsin, the Wausau Family Medicine Residency Program offers robust unopposed single specialty training in a welcoming community. We are one of the longest-standing family medicine residency programs in Wisconsin, graduating 200+ physicians. We are supported by Aspirus Wausau Hospital, an award-winning and rapidly growing system that serves patients across northern and central Wisconsin, as well as the Upper Peninsula of Michigan.
For more information, visit the Wisconsin Northern and Central (WiNC) GME Consortium website.
As a Wausau resident, you will gain intensive, progressive learning experiences in a setting that brings state-of-the-art resources to meet the health care needs of a rural community. Our program provides vigorous experiences in both outpatient and inpatient, working alongside highly skilled healthcare professionals.
Program Facts
Accredited to train both osteopathic and allopathic physicians
15 residents; 5 per year
MD and DO faculty
The only full time single specialty located at Aspirus Wausau Hospital
Academic partners with both University of Wisconsin Department of Family Medicine and Community Health and Medical College of Wisconsin
Residency Start Date: June 19, 2023
Current Salaries: $63,500 for PGY1, $65,600 for PGY2, $67,650 for PGY3
Professional Development Funds: Each resident will receive $1,000 in each of the PG 1, 2, and 3 training years.
Professional Development Days: 5 days each for PG-2 and PG-3
Personal Time Off: 20 days each for PG-1, PG-2, and PG-3

Wausau Family Medicine Residency Clinic
Located on the Aspirus Wausau Hospital campus, Aspirus Wausau Family Medicine is the residency's home base. Clinic highlights include:
Diverse population including

Whole families, from infants to elderly
Persons living with HIV
Southeast Asian families
Gender affirming care

Spacious, modern facilities built in 2011
The Patient Centered Medical Home care model
Epic electronic record
Dedicated training and meeting spaces
On-site education staff passionate about resident education

As a resident, you will:
Maintain your own panel of clinic patients, focusing on continuity
Provide comprehensive care that includes underserved and diverse populations
Have optional opportunities in

Addiction medicine
Gender affirming care
HIV care
Medical student teaching (including Medical College of Wisconsin-Central Wisconsin located on the Aspirus campus)

Enjoy excellent work-life balance including wellness days, retreats, and no 24-hour call
Experience rigorous inpatient hospital medicine training from experienced core faculty, community faculty physicians, and hospitalists – including many graduates from our program
Experience excellent training in the rural communities of Central Wisconsin through both required and elective opportunities
Be an active member of the learning process in the maintenance and ongoing development of curriculum
Be able to choose electives to build experiences to suit your interests
For osteopathic residents, gain extensive training in osteopathic manipulative therapy including dedicated OMT clinics directly supervised and taught by core faculty
Community Highlights
Wausau's quality of life ranks among the best and safest in the nation for communities of its size.  You will experience that special hometown feeling when you visit one of the specialty shops, organic grocery stores, or one of our many farm-to-table restaurants.  You can listen to music in the summer or ice skate in the winter on the downtown public square.  There is something going on no matter what the season is, be it a music concert, theater production, festival, parade, fair, arts and craft show, or sports event.  You will enjoy the natural features of Wausau such as flowing rivers, lakes, Rib Mountain State Park, Granite Peak Ski Area, and the many city parks that provide beauty and recreation throughout the four seasons.
Medical Student Rotations
We welcome fourth-year medical students for rotations, which are a great way to learn more about our program and our people.  Please contact Jane Meyer for more information at jane.meyer@aspirus.org.
We invite you to learn more about our program and encourage you to contact us. Welcome home to Wausau!
Review the eligibility criteria (PDF) for the Wausau Family Medicine residency program.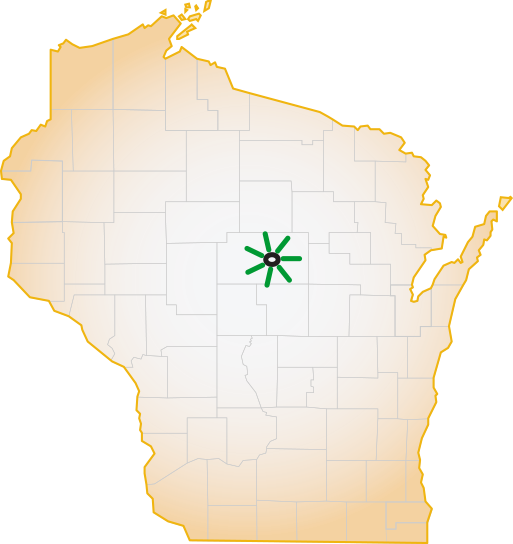 Contact
Jane Meyer
Email: Jane.Meyer@aspirus.org
Address:
425 Wind Ridge Drive
Wausau, WI 54401
Program Size
15 residents (5 per year)
City Size
Population: 39,000 (metro: 163,000)
Program Highlights
Supportive learning environment on the campus of Aspirus Wausau Hospital, diverse patient population, state-of-the-art clinic, Osteopathic recognition
Community Highlights
Picturesque river city, valued for community, strong schools, quality of life, and wide variety of outdoor and recreational activities
Practice Setting
Urban, rural