Our continuity clinic, Prevea Health Family Medicine, is in a highly visible and accessible area of Eau Claire, across the street from HSHS Sacred Heart Hospital and minutes from Mayo Clinic Health System-Eau Claire Hospital.
Our clinic is a state-of-the-art medical facility located within the Health Education Center of Chippewa Valley Technical College.
Prevea Health Family Medicine
18 exam rooms and 2 procedure rooms
Electronic medical record (EPIC)
Individual resident desks with computers
Human Patient Simulator laboratory
X-ray suite
Ultrasound suite
On site laboratory
Family counseling rooms
High-tech conference rooms
Program Aims
The Eau Claire Family Medicine Residency aims to prepare residents to:
Practice evidence-based medicine.
Practice full spectrum Family Medicine in any setting.
Be community health leaders.
Program Highlights
Single specialty residency program
Only comprehensive geriatric assessment program in northwest Wisconsin
Dually accredited for allopathic and osteopathic medicine
MD and DO faculty with an on-site Clinical Social Worker
Over 100 volunteer clinical faculty members who work with our residents in a variety of settings, with a good balance between inpatient and outpatient experiences
Over 200 graduates, a majority practicing in Wisconsin
Our family medicine curriculum provides an excellent balance of training in internal medicine, outpatient procedures, pediatrics, and obstetrics. Flexible electives provide you with time to explore personal areas of interest.
The UW DFMCH is pleased to offer generous and competitive benefit packages for residents in our programs.
Come see what your next three years could be. Visit Eau Claire!
Over 40 Years in Family Medicine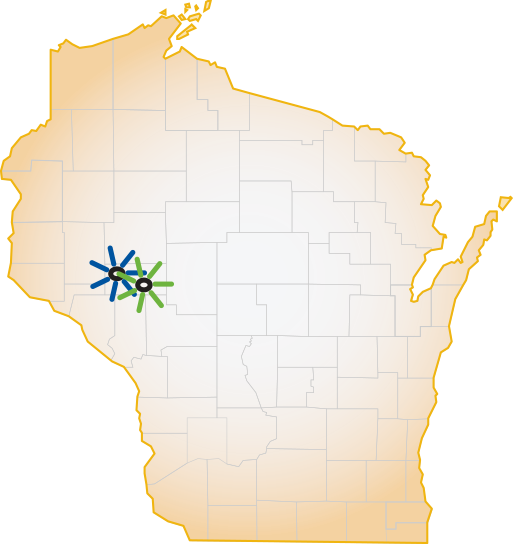 Contact
Paula Naumann
Email »
(715) 839-5177
Program Size
15 residents (5 per year)
City Size
66,000 (155,000 metro area)
Program Highlights
EMR, modern clinic, conference rooms, lecture hall, in-house lab, digital x-ray suite, human patient simulator, 2 procedure rooms
Community Highlights
Home to UWEC, Chippewa Valley Technical College and Immanuel Lutheran College. The economic base is made up of manufacturing, health care, information technologies, and retail trade. Multiple recreational opportunities.
Practice setting
Urban, rural