The Eau Claire Family Medicine Residency Program supports individual resident's interests with a flexible curriculum in our single-specialty learning environment. Our residency core faculty and our community preceptors provide evidence-based and full-spectrum training opportunities.
Our continuity clinic, Prevea Health Family Medicine, is a state-of-the-art medical facility located within the Health Education Center of Chippewa Valley Technical College in a highly visible and accessible area of Eau Claire. The primary training hospital, HSHS Sacred Heart Hospital, is located a block away.
Prevea Health Family Medicine
18 exam rooms and 2 procedure rooms
Electronic medical record (EPIC)
Individual resident workspaces with desktop computers and dual monitors
Human Patient Simulator laboratory
X-ray suite
Ultrasound suite
On-site laboratory
Family counseling rooms
High-tech conference rooms
Program Aims
The Eau Claire Family Medicine Residency aims to prepare residents to:
Practice evidence-based medicine
Provide equitable care to all patients, regardless of personal characteristics
Practice full spectrum Family Medicine in any setting
Be community health leaders
Program Highlights
Single-specialty residency program
Only comprehensive geriatric assessment program in area, member of Wisconsin Alzheimer's Institute (WAI)
Dually accredited for allopathic and osteopathic medicine
Residents with diverse backgrounds and cultures
Experienced MD and DO faculty and an on-site Clinical Social Worker
Over 100 volunteer community faculty members
Balance between inpatient and outpatient rotations
Professional and friendly work environment
Over 230 graduates, a majority practicing in Wisconsin
Our family medicine curriculum provides an excellent balance of training in internal medicine, outpatient procedures, pediatrics, and obstetrics. Flexible electives provide you with time to explore personal areas of interest.
Eau Claire Family Medicine is an academic partner program with UW DFMCH. More information about the program is available through Wisconsin North and Central (WiNC) GME Consortium, our sponsoring institution.
Come see what your next three years could be. Visit Eau Claire!
Over 40 Years in Family Medicine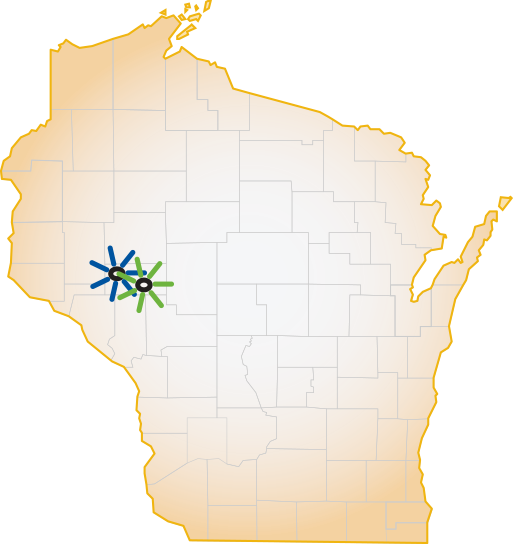 Contact
Erin Hazen
Email »
(715) 839-5177
Program Size
15 residents (5 per year)
City
Population: 68,900 Metro: 161,151
The third most livable small city in the country. (Smart Asset study 2020)
Program Highlights
EMR, modern clinic, conference rooms, lecture hall, in-house lab, digital x-ray suite, human patient simulator, 2 procedure rooms, Osteopathic recognition
Community Highlights
Home to UWEC, Chippewa Valley Technical College and Immanuel Lutheran College. The economic base is made up of manufacturing, health care, information technologies, and retail trade. Multiple recreational opportunities.
Practice setting
Urban, rural