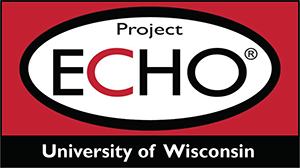 Periscope Project
The Periscope Project is a free resource for health care providers caring for pregnant and postpartum women who are struggling with mental health or substance use disorders.
Wisconsin Child Psychiatry Consultation Program (CPCP)
The Wisconsin Child Psychiatry Consultation Program (CPCP) goal is to improve mental health care for children in the state of Wisconsin by establishing consultative support from child psychiatrists, child psychologists and social workers. Through education and consultation, primary care providers are able to offer timely, quality mental health care to children with mild- to-moderate mental and behavioral health concerns.
University of Wisconsin Department of Surgery – Project ECHO
Telehealth initiative that connects the surgical specialists in the UW Department of Surgery with the primary care providers across the region. Via a regularly scheduled videoconference, UW specialists provide education and lead a collaborative discussion on submitted patient cases.
Wisconsin Recovery 211 Helpline
The Wisconsin Addiction Recovery Helpline is a statewide resource for finding substance use treatment and recovery services. The helpline is free, confidential, and available 24/7. Our trained resource specialists will help you understand your treatment and support options.
Wisconsin Voices For Recovery (WIVFR)
A statewide organization that represents and connects people in or seeking recovery from addiction, their family, friends, allies and service providers. We provide connections and advocacy opportunities in order to strengthen recovery across Wisconsin. Together we work to increase access to recovery services, increase the capacity of current and upcoming Recovery Community Organizations (RCOs), reduce addiction and recovery stigma, and support the integration of peer support providers into the workforce.
Wisconsin Department of Health Services
DHS works with local counties, health care providers, community partners, and others to provide alcohol and other drug abuse prevention, mental health, public health, implementation of long-term care, disability determination, regulation of state nursing homes, and numerous other programs that aid and protect the citizens of our state.