How can I learn more about the study and find out if I qualify?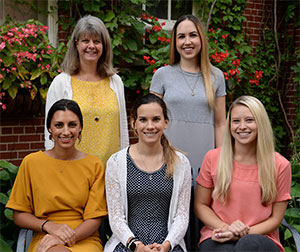 Please contact:
The Madison STAMP Study Team
University of Wisconsin, Madison
Phone: (608) 212-6902
Email: STAMPstudy@fammed.wisc.edu
Cassandra, Shelbey, Alyssa, Alice, and Amanda of the Madison team will be happy to discuss the study with you!
When and where will the study sessions be held?
The next study training sessions will be:
Monday or Tuesday afternoons, starting March 2, 2020
Location: Wingra Family Medical Center – Madison, WI
More training sessions are coming!  Please call us for dates.
Transportation assistance may be available, please call us for details.
This study may be a good fit if you:
Are interested in learning new methods designed to help manage your back pain
Agree to be assigned in a random way (like by flipping a coin) to learn one of two methods to help manage pain
Are 21 or older
Experience daily lower back pain for at least 3 months
Are prescribed daily pain medication for your back pain (for example: Vicodin®, Percocet®, oxycodone, or morphine)
Are willing to complete an 8-week training program of weekly 2-hour sessions in your local city to learn one of the two pain management methods
Are willing to complete in-person and online follow up surveys throughout the one year study


Lead Researcher

Aleksandra Zgierska, MD, PhD
Associate Professor
Department of Family Medicine and Community Health
University of Wisconsin Madison
Madison Manager

Cindy Burzinski, MS
Department of Family Medicine and Community Health
University of Wisconsin Madison