Our program features two fellowship opportunities at this time.
---
UW DFMCH-VA Addiction Medicine Fellowship
This fellowship, in collaboration with the William S. Middleton Memorial Veterans Hospital, provides clinical experience and instruction in the management of substance use disorders. Successful completion allows the trainee to sit for examination to attain Board Certification in Addiction Medicine. The Addiction Medicine Fellowship, created in 2010, is one of the first programs in the country that provides training to physicians with an interest in becoming Board Certified in the newly recognized specialty of Addiction Medicine. Our program was selected as a National Model Program by the American Board of Addiction Medicine. Eligible candidates are Board Certified or Board Eligible most preferably in family medicine, internal medicine, pediatrics, or emergency medicine.
Trainees will gain expertise in:
Assessment and management of patients with substance use disorders and with co-morbid illness
Models for integrating addiction medicine into primary care settings
Management of acute withdrawal and intoxication syndromes
Medication-assisted treatment of substance use disorders
Chronic pain and addiction
Care of addicted HIV/AIDS patients
Patient counseling strategies to facilitate recovery
Prevention and management of substance misuse complications
Clinical experiences will include:
Outpatient Consultation clinic at Access Community Health Centers (a Federally Qualified Health Center)
Rotations at the multi-disciplinary VA Addictive Disorders Treatment Program
Hospital consultation at the University of Wisconsin Hospital and Clinics
Rotations at the Herrington Recovery Center, residential treatment facility
Rotation at local licensed Opioid Treatment Program
Outpatient consultation for patients with substance misuse issues in the UW HIV/AIDS Comprehensive Care Program
Involvement with University Health Services in screening, brief interventions, and outreach to UW's student population
Fellows will be supervised by a variety of nationally and internationally recognized faculty with certification and expertise in Addiction Medicine, Addiction Psychiatry, Family Medicine, Substance Abuse Counseling, Social Work, Pain Management, and Medication-Assisted Treatment. Salaries of fellows selected from among current Department of Family Medicine and Community Health faculty would be subject to negotiation with Department leadership. Fellows starting the fellowship immediately after residency would begin at a fourth-year resident salary as set by the University of Wisconsin School of Medicine and Public Health, with comparable benefits.
How to Apply
Fill out the UW DFMCH-VA Addiction Medicine Application Form.
Application deadline: December 1 (annually)
Eligibility Requirements:
Completion of an  ACGME, RCPSC, or CFPC accredited residency training program in Family Medicine or Internal Medicine
Board certified or planning to be become board certified (before fellowship start date) in Family Medicine or Internal Medicine
Must be eligible to receive a Wisconsin License and Federal DEA
Must be eligible to be a Medicaid and Medicare Provider
---
VA Interprofessional Advanced Fellowship in Addictions Treatment
This 2-year fellowship program allows an MD to train alongside an associated health professional (most commonly psychology or social work trainee) at the Madison VA Medical Center in order to gain skills in leadership, quality improvement, program development and research in addictions treatment. Eligible candidates are Board Certified or Board Eligible most preferably in family medicine, internal medicine, pediatrics, or emergency medicine. Graduates of psychiatry residency training programs are most generally not eligible. Supervised clinical experiences will facilitate the fellows' gaining expertise in:
group facilitation
pharmacotherapy for substance use disorders
assessment and management of addiction and chronic pain
primary care consultation
hospital consultation
These experiences will also provide the framework for mentored scholarly and/or quality improvement projects focused on services delivery targeting individuals with substance use disorders.
For more information visit the VA Fellowship Website. ( Fill out VA Interprofessional Application Form )
Contact Us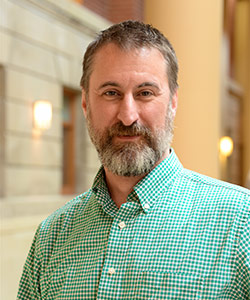 Director
Randall Brown MD, PhD, FASAM
How to Apply
UW DFMCH-VA Addiction Medicine Fellowship
VA Interprofessional Advanced Fellowship in Addictions Treatment