The Academic Integrative Health (AIH) Fellowship was created in 2003 to tap into the array of educational resources available through the University of Wisconsin Integrative Health Program. This fellowship is one of the few worldwide that allows participants to combine academic and Integrative Health interests into one overall two-year fellowship experience. The purpose? To create national – and international – leaders in Integrative Health.
Please note: Applicants must hold an MD or DO degree, and must have completed residency in family medicine, internal medicine, or pediatrics to qualify for the fellowship program. Applicants may also apply for the program while completing their final year of residency, with a start date following their completion of residency. The program accepts up to two fellows yearly.
Fellows who successfully complete this program are eligible to sit for Board Certification examination at the end of their second year of training.
Curriculum
Fellows participate in a two-year curriculum, developed by the Integrative Health faculty and staff at University of Wisconsin. This curriculum has been in evolution since 2006, and has been adopted fully since 2009. This curriculum is developed around several core principles:
Fellows are adult learners and must be allowed a great deal of flexibility in the fellowship to tailor their experiences to their personal interests and specific learning needs.
One day weekly is designated as a day for fellowship didactics. In general, half of this time is spent in seminar/discussions, and half this time is spent on experiential learning sessions, typically with experts in various therapeutic approaches or aspects of integrative health. Self-care is a key component of the curriculum.
A significant portion of the didactic training is focused on the tutorial method. This style of learning, which has been used for thousands of years in various academic venues, centers around dialog and focused assignments. Fellows are given a writing or other assignment, tailored to their specific interests in a given topic, and then they are provided with an array of resources to allow them to prepare. Their work is discussed in depth during the didactic time. This allows learning to occur in parallel with developing journal articles, Integrative Health patient handouts, or health plans that fellows are expected to create for patients as part of their Integrative Health consultative practice.
Seminars and tutorials are loosely built around different body systems or special areas of interest. Examples include modules in nutrition, movement, relationships, pediatrics, obstetrics, neurology, women's health, psychology, ophthalmology, preventive care, toxicology/environmental health, and infectious disease. Reading materials include the most up to date evidence-based approaches to integrative care and beyond that, the practical and philosophical aspects of the integrative approach to various conditions.
Some didactic experiences are based around seminars offered to all fellows with in the University of Wisconsin Fellowship Programs. Topics for these include academic writing/publishing, research techniques, resident precepting, giving feedback, and preparing effective presentations.
Expectations
In addition to the various responsibilities outlined under the academic fellowship description (also described on the fellowship web page), AIM fellows:
See patients for 1/2 day per week at the University of Wisconsin Integrative Health Clinic. The clinic is located at the University of Wisconsin Research Park Clinic at 621 Science Drive. Fellows are supervised there by the Integrative Health faculty.
Choose one or two healing modalities of particular interest to them for more intensive training. Examples for current and previous fellows in include Traditional Chinese Medicine (with in-depth acupuncture training), environmental medicine, mind-body modalities (including mindfulness-based stress reduction training, which is offered for all fellows), guided imagery training, energy medicine, integrative obstetric and newborn care, and spirituality and health. All fellows are given extensive experience with nutritional approaches and dietary supplements.
Attend and participate in presenting at monthly Integrative Health Grand Rounds.
Have ample opportunity to publish, participate in curricular and research projects, and interact both formally and informally with the clinics' faculty and staff. A high level of academic productivity is encouraged and expected. Fellows are regular contributors to Dr. David Rakel'''s Integrative Medicine textbook.
Are encouraged to develop an Integrative Primary Care practice. Our program is one of the few programs currently exploring models for this. Fellows spend 3 half days per week seeing patients in our integrative primary care practice at UW Health Arboretum Family Medicine.  Fellows work closely with Integrative Health faculty in this practice which strives to provide integrative care to a wide variety of patients .
Precept residents at one of the residency clinics for 1 half day per week.
Attend a yearly weekend retreat specifically for the fellows. This is both time to share knowledge and to spend time with Integrative Health colleagues in a fun retreat-type environment.
Participate in Integrative Health staff retreats and patient retreats offered by the University of Wisconsin's Integrative Health Program.
Have ample flexibility with regard to the remaining time each week to focus on other academic interests and self-care.
Utilize resources within the program's increasingly extensive Fellows' Library.
Salary and Benefits
Fellows are paid as PGY-4 and PGY-5 residents for their two consecutive years. There is an ample budget for CME.
Contact Us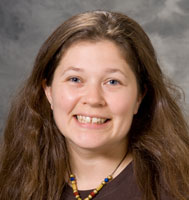 Director
Greta Kuphal, MD
How to Apply
Fill out the Integrative Health Application Form.
Program Overview
Learn more about our UW Integrative Health Program.
For patient info see UW Health Integrative Health.
Teaching Modules & Patient Handouts