January 1, 2012
Welcome to the DFM's FY11 Annual Report (4.6 MB), a summary of our activities from July 1, 2010, through June 30, 2011.
During the year, our department continued to grow and thrive despite decreasing state support and an increasingly competitive marketplace.
We provided outstanding care for over 454,000 patient visits, and have been working hard to replace inadequate, outdated clinic facilities. Our new UW Health Deforest-Windsor clinic just opened, we broke ground on our new Belleville and Yahara clinics, and we're planning a new home for the Wingra/Access Family Medicine Center.
Two of our residency clinics, Eau Claire and Augusta, were recognized as Level I and II patientcentered medical homes (PCMH). In addition, the Aurora/St. Luke's Family Practice Center—our affiliated site in Milwaukee—achieved Level III PCMH recognition. Following their demonstration of excellence in primary care, other clinics are applying for similar recognition.
Our top-notch, statewide education programs—the heart and soul of our department—trained 111 family physicians and 80 physician assistants. I'm deeply proud that two-thirds of our resident graduates in 2011 are remaining in Wisconsin, where their care is desperately needed. Our outstanding researchers continued to tackle obesity, alcoholism, and other health problems that face our state.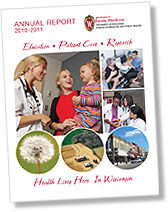 Family medicine, like all of health care, is transforming in ways that are not always simple or easy to navigate. But, through creativity, courage, and a sheer dedication to our mission, we remain strong. Because we know that health lives here, in Wisconsin.
Valerie Gilchrist, MD
Millard Professor in Community Health
Chair, Department of Family Medicine
University of Wisconsin School of Medicine and Public Health
Key Facts about the DFM
January 1, 2012
History: Created in 1970 as one of the original 15 family medicine residency programs in the nation
National Ranking: Ranked fifth of family medicine departments nationwide in US News and World Report's 2011 edition
People: 1055 employees; 199 faculty; 111 residents
Budget: 2010-2011 budget of $90,280,132
Medical Student Education: Statewide medical student education program
Residency Programs: Five statewide MD/DO programs; 62% of graduates remain in Wisconsin
PA Program: Campus- and community-based MPAS program
Patient Care: 24 statewide clinics had over 454,000 patient visits
Research: $3.7 million in research grant funding
Year in Review
July: 36 new residents joined the DFM.
September: Ground broken on new DeForest-Windsor clinic.
Perry Dickinson, MD, presented the Farley Visiting Professor Lecture; first annual John Frey Writing Awards presented.
October: Ground broken on Belleville and Yahara clinics.
Thomas Peterson, MD, won the 2010 Renner Award; Jennifer Frank, MD, won the 2009 Hansen Lectureship.
February: Eau Claire and Augusta clinics received patient-center medical home recognition from the National Committee for Quality Assurance.
WREN co-presented the 4th Wisconsin Health Literacy Summit; former US Surgeon General Richard Carmona and former Health and Human Services Secretary Tommy Thompson keynoted.
May: The DFM honored 20 medical students at the McGovern-Tracy Scholars Award ceremony.
June: New DeForest-Windsor clinic opened.
34 DFM residents graduated, two-thirds of whom remained in Wisconsin.