January 1, 2011
Welcome to the DFM's FY10 Annual Report. This report summarizes our activities from July 1, 2009, through June 30, 2010.
Last year truly began on a high note. On July 1, 2009, the Wingra Family Medical Center formally partnered with Access Community Health Centers to create another much-needed Federally Qualified Health Center in South Madison. This affiliation, years in the making, exemplified our commitment to helping communities in need get affordable health care. We not only provide care now, but train others to provide care for years into the future.
Throughout the year, we demonstrated every day how we care for the people of Wisconsin. For example:
Our clinicians provided front-line care for over 463,000 patient visits at 26 clinics around the state.
Our statewide education programs trained 30 family physicians and 33 physician assistants to provide desperately needed care throughout the region.
Our outstanding researchers focused their efforts on one of Wisconsin's top health priorities: improving nutrition and preventing obesity among specific populations.
And finally, we celebrated. The year ended with a joyous summer weekend commemorating our 40th anniversary. Friends old and new came to Madison to celebrate, learn, and reflect on our journey from upstart physicians to a nationally respected department.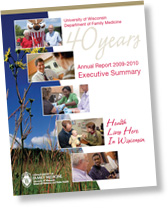 The event reaffirmed what many close to the DFM have always known: Health lives here. In Wisconsin.
Here's to another 40 great years!
Valerie Gilchrist, MD
Chair, Department of Family Medicine
University of Wisconsin School of Medicine and Public Health
Key Facts about the DFM
January 1, 2011
History: Created in 1970 as one of the original 15 family medicine residency programs in the nation
National Ranking: Ranked sixth of family medicine departments nationwide in US News & World Report's 2010 edition
People: 814 employees; 178 faculty; 104 residents
Medical Student Education: Statewide medical student education program
Residency Programs: Five statewide MD/DO programs; over half of graduates practice in Wisconsin
PA Program: Campus and community-based MPAS program
Research: $3.7 million in research grant funding
Patient Care: 26 statewide clinics had over 463,000 patient visits
Budget: 2009 budget of $89,831,728
Year in Review
July: Wingra Clinic formally partnered with Access Community Health Centers.
34 residents joined the DFM.
Allen Last, MD, MPH, became the Fox Valley residency program director.
August: Three faculty visited China as part of an ongoing exchange program.
September: The Wisconsin Academy of Family Physicians won the 2009 Renner Award; Kathleen Carr, MD, won the 2009 Hansen Lectureship.
October: David Loxterkamp, MD, presented the Farley Visiting Professor Lecture.
November: Medical Student Education Director David Deci, MD, helped lead the Street
Medicine Institute's Fifth Annual International Symposium.
February: Brian Earley, DO, became the DFM's statewide osteopathic program director.
April: US News and World Report ranked the DFM fifth among family medicine departments for 2011.
May: The DFM honored 19 medical students at the McGovern-Tracy Scholars Award ceremony.
June: 30 DFM residents graduated, 17 of whom chose to practice in Wisconsin.
July: The DFM celebrated its 40th anniversary with a weekend of education, friendship, and fun.