December 15, 2012
Welcome to the DFM's FY12 Annual Report (4.5 MB), a summary of our activities from July 1, 2011, through June 30, 2012.
Last year, we provided outstanding care for over 447,000 patient visits in 22 statewide clinics, and over 43,000 patients at urgent care sites. We welcomed 19 new faculty and opened two new clinical facilities, Belleville and Yahara. In July 2012, we broke ground on the new Wingra/Access Family Medicine Center, which is scheduled to open next summer.
Our clinical teams are deeply engaged in system-wide primary care redesign initiatives that will result in improved patient care and population health, and lower healthcare costs. We also participated in the UW Health pay-for-performance program, which aligns primary care quality improvement and clinician compensation.
We trained 109 family physicians and 81 physician assistants—and supported over 500 medical students—through our exceptional statewide education programs. It's our mission to cultivate the primary care providers that Wisconsin desperately needs, and we demonstrate this by the fact that over two-thirds of our residents remain in the state after graduation. In July, we also transitioned the operation of the Wausau program's clinical practice to Aspirus. The residency program will continue to be sponsored by UW, and residents will have more local resources from which to draw training experiences.
Our researchers continue to lead programs that address health problems in our state, such as obesity, nutrition, alcoholism, and substance abuse. They also explored the benefits of complementary and integrative medicine (CAM) approaches and their impact on primary care.
Finally, we received a five-year grant from the Health Resources and Service Administration to integrate community health approaches into our patient care, education, and research missions. This work will lay the foundation for our department's transformation to a Department of Family Medicine and Community Health, and help redefine family practice as a discipline in which clinicians are deeply connected to the communities they serve.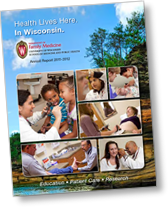 It's an exciting time for family medicine. Many changes lie ahead—for all of healthcare, not just
family doctors—but we're facing the future with strength and enthusiasm. Because health lives
here, in Wisconsin.
Valerie Gilchrist, MD
Millard Professor in Community Health
Chair, Department of Family Medicine
University of Wisconsin School of Medicine and Public Health
Key Facts about the DFM
December 15, 2012
History: Created in 1970 as one of the original 15 family medicine residency programs in the nation
National Ranking: Ranked seventh of family medicine departments nationwide in US News and World Report's 2012 edition
People: 1065 employees statewide, including 194 faculty
Budget: Budget of $102M
Medical Student Education: Statewide medical student education program supported 505 students
Residency Programs: Five statewide MD/DO programs trained 109 residents; 68% of graduates in 2012 went on to practice in Wisconsin. Since the DFM's inception in 1970, approximately 66% of graduates have remained in-state.
PA Program: Campus- and community-based MPAS program trained 81 students; 37 graduated in 2012. Of those graduates who are clinically employed, 21% practice in primary care, and 64% practice in Wisconsin.
Patient Care: DFM faculty provided over 447,000 patient visits in 22 statewide clinics, and over 43,000 patient visits at urgent care sites.
Research: $7.6M in research grant funding
Year in Review
July: 34 new residents joined the DFM.
DFM attracted one-third more medical students at 2011 Kansas City conference.
September: Hollis King, DO, PhD, joined the DFM as statewide osteopathic program director.
Carlos Jaén, MD, PhD, presented the Farley Visiting Professor Lecture; John Frey Writing Awards presented.
October: New Belleville and Yahara clinics opened.
DFM received HRSA grant to integrate community health approaches into its work.
DFM hosted five faculty from Ethiopia's Addis Ababa University Faculty of Medicine, who are creating the first family medicine department in Ethiopia.
November: St. Mary's Hospital President Frank Byrne, MD, won the 2011 Renner Award; Adam Rindfleisch, MPhil, MD, won the 2011 Hansen Lectureship.
UW Health Portage Clinic and UW Health Eau Claire Family Medicine Clinic won James E. Davis Award for Quality Improvement.
January: David Kiefer, MD, became the DFM's first CAM research fellow.
May: DFM honored 20 medical students and residents at the McGovern-Tracy Scholars Award ceremony.
June: 40 DFM residents graduated, 68% of whom remained in Wisconsin.