Quality of Life
A vibrant, picturesque city of 258,000, Madison is the Wisconsin state capital and the home of the University of Wisconsin. Madison boasts many big-city amenities, but is only 20 minutes from the countryside. The city consistently ranks as one of the best places in the country to live, work and play. A sampling of ratings:
---
Recreation
Paddle, sail, sailboard, swim, fish and even kite surf on one of Madison's four lakes. Or visit the UW Arboretum, a favorite of runners, hikers, cyclists, and cross-country skiers.
---
Culture
Enjoy world-class theater, dance, and concerts at The Overture Center, a state-of-the-art performing arts complex in downtown Madison. Madison also has a lively local music scene, numerous eclectic restaurants, and an energetic intellectual and political climate. Many distinct neighborhoods contribute to the city's unique character.
---
Sports
State residents take pride in our Wisconsin Badgers. The Football team has won the Rose Bowl in 1994, 1999 and 2000 as well as 14 Big Ten Championships. The Men's Basketball team has won the 2002, 2003 and 2008 Big Ten Championships and made 20 consecutive appearances in the NCAA Tournament, while the Women's Basketball team has also had many NCAA and WNIT appearances. The UW Women's Volleyball team has 7 consecutive appearances in the NCAA tournament and ranked second in attendance among all D1 volleyball programs in the 2019 season.  The Men's Hockey team has recently won two NCAA Championships and won the Frozen Four in 2014. The Women's Hockey team has appeared in eight Frozen Four tournaments with the most recent appearance in 2019, where they won it for the fifth time.
---
Economy
Madison has an affordable cost of living, a stable economy, and plentiful employment opportunities. Major employers include the state government, UW-Madison, American Family Insurance, CUNA Mutual and Epic Systems.
---
Links

Why residents like living in Madison…
"Madison has its own unique culture and is home to so many people of different backgrounds, interests, and ideologies. Moreover, the city has provided me with an instant sense of community, which is absolutely necessary during the rigors of residency training."
—Sagar Shah, MD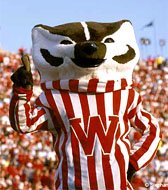 Bucky Badger celebrates a Wisconsin football victory.