On this page:
Modules | Patient Handouts | Clinician Handouts
Be sure to preview our Supplement Samplers for Clinicians too.
---
Modules
Modules include a brief overview, "Pearls for Clinicians", a patient handout, and a podcast for clinicians.
Patient Handouts
Conditions
Detoxification
Diets/Nutrition
Healthy Environments
Mind/Body
Modalities
Pregnancy & Infant Care
Self-Care
En Español
Clinician Handouts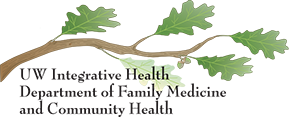 Contact Information
For more information or to support our work, please contact:
Charlene Luchterhand, MSSW
UW Integrative Medicine Program
Dept. of Family Medicine
1100 Delaplaine Ct.
Madison, WI 53715-1896
Phone: (608) 262-0740
Feedback
Please help us make our modules as useful as possible by filling out our brief module evaluation form.

---
In the iBookstore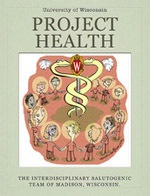 Project Health: The Interdisciplinary Team of Salutogenesis of Madison, WI
What would a health system look like that had health as its primary goal? This book summarizes an interdisciplinary discussion of how to create health for an individual, a medical clinic and the community it serves. Economic and business strategies are discussed to insure sustainability.
This book is available for download on your iPad with iBooks or on your computer with iTunes.