Integrative Health is Healing-Oriented Care.
University of Wisconsin-Madison Integrative Health
Integrative Health focuses on health and healing.  It honors what matters most to you and your reasons for wanting to be healthy.  It includes everything about you–body, mind, spirit, lifestyle, and your connections with other people and your surroundings.   It emphasizes healing relationships and uses both standard medical approaches and complementary ones.
Our Mission & Vision
Through the principles of integrative health and participatory medicine in our compassionate care, education, and research, our Integrative Health Program will support the individuals, communities, and healthcare system we serve on the path to their greatest wellbeing.
It is our vision to be a trusted academic and clinical resource for compassionate, innovative, and evidence-based services to achieve whole-person and whole-community health for all.
Our Work
Imparting Knowledge: We advance collective understanding of healing through research, education, and interpersonal dialogue.
Cultivating Wisdom: We use nature as a guide and acknowledge the wisdom traditions, as well as the methods and results of science, as important influences on healing.
Taking Action: We facilitate well-being and reduce suffering in all aspects of healthcare delivery for others and ourselves, from person to planet. (See the RELIEVE mnemonic below for a description of this process.)
The mnemonic RELIEVE is central to our philosophy and conveys the components of our overall goal to relieve human suffering.
Relationship-centered care built on
Empathy and trust creates a positive environment where the clinician can
Listen to a complicated story that creates
Insight into a problem that results in an
Explanation that is consistent with the patient's
Values leading to
Empowerment and action towards health.
Our Projects
Clinical Services
Medical student and resident education
Fellowship training
Research designed to bring awareness to the healing process
Integrative oncology services
Continuing medical education
Mindfulness-based integrative health retreats
Incorporating integrative health into primary care
Environmental stewardship through sustainable practices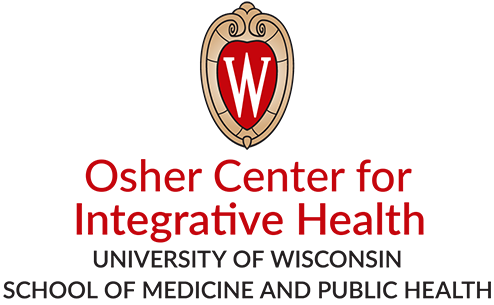 Contact Information
For more information or to support our work, please contact:
Sara Arscott, PhD, CCRP
Outreach Program Manager
UW Integrative Health Program
Dept. of Family Medicine & Community Health
1100 Delaplaine Ct.
Madison, WI 53715-1896
Phone: (608) 262-2218
For general inquiries, please contact:
Courtney Gamer
Administrative Specialist
cgamer@uwhealth.org